I'm not sure when I first stumbled upon the SLGT website, other than it was in the offseason. It was either 2008 or 2009. Brad "Ol' High and Wide" Boyes was just beginning to spiral into trade bait, Cam Janssen had yet to dumptruck Carey Price, Davis Payne was running the show in Peoria and David Backes had yet to beat the snot out of Jonathan Toews. It was a desperate time for Blues fans.
A litt;e backstory is required to understand how I came up with the term. I really enjoy seeing live games and playing hockey. I don't have a tv or cable, mainly because it takes money away from watching games live and in person and playing hockey. (I also really don't like paying for channels I never watch.) As a result I use the radio to keep up with games I can't see in person.
The radio bumper at the beginning of Blues games ended at the time with the words "St. Louis Blues Hockey!" The announcer ran "Blues" and "Hockey" together a little too quickly, sounding to me like "BLOOZOCKY!" And thus the term "BLOOZOCKY" began.
Eventually I began to think of "BLOOZOCKY" in a manner like this: it's Blues Hockey, but with a last-second edge that leads to awesomeness and a few laughs. Once I figured out the definition of BLOOZOCKY it was only a matter of time before I started putting it on pictures as a Meme.
Here follows the BLOOZOCKY meme in no particular order up to last season. I haven't really had a chance to look through good pictures for new guys and others who stayed under my radar for a long time.
First, we need to look into the past of the Blues. Are there any points in time that could be embarrassing for a player? Oh yes. Very yes. Joe Michelletti, you were almost a predecessor to Joe Thornton and his "I'd take my cock out and stroke it" comment. Thankfully, you're a Blue:
Next up is the first BLOOZOCKY moment from now-Captain David Backes, and his greeting to a Vancouver Canuck:
But wait, we can't see his face! This won't do. Thankfully, Backes provides not only a face, but a great expression, too. There's also plenty of aggression, as is required of our team's captain:
Yep. Went right to the poop joke. BLOOZOCKY is rarely subtle:
That's right, kids: a drive-by fart is a very sneaky way to score a goal. Sometimes, though, you just find a picture of a defenseman working harder than everyone else, taking it to opponents like no one else will. Barret Jackman does that in his own way:
I'm pretty sure that Barret dryhumped his way into an assist on that play. What about his erstwhile partner last season, one Mr. Roman Polak?
If you were expecting something other than a fart joke with Roman Polak, you're new to St. Louis Game Time. Notice how Polak can direct the fart with a mere wave of his hand! Indeed, if Roman Polak played Dungeons & Dragons, he'd be a Barbarian/Fartomancer. Yes, this was made prior to Ken Hitchcock's "Roman Polak Door" comment.
Sometimes, though, you just can't get through to a guy that scoring goals is a special occasion. Sometimes he stops scoring goals like a beast. Because he's all "Meh, assists are cool, too, maybe I'll score if I feel like it when they're not so mainstream. So I'm not partying on any goals."
I miss goal-scoring Chris Stewart, and I think I speak for everyone here when I say that. Sometimes, though, calls don't go a player's way. Even worse, sometimes that player gets screwed over by the referees in a blatantly stupid calls. That's when you call in a specialist to explain how fans feel to the referees:
Oh come on: you think I'd forget Louie? Never happen. And Louie will never forget the Grinch's furry green junk near his backside. EVER. (Also, it's because Louie is a Vengeful God.)
See?
But now we come to the sadder part of BLOOZOCKY: The players who have left our team for better or worse. We all miss them in their own way.
First up, Jamie Langenbrunner came in to fill a fourth-line role and provide his wisdom to the team: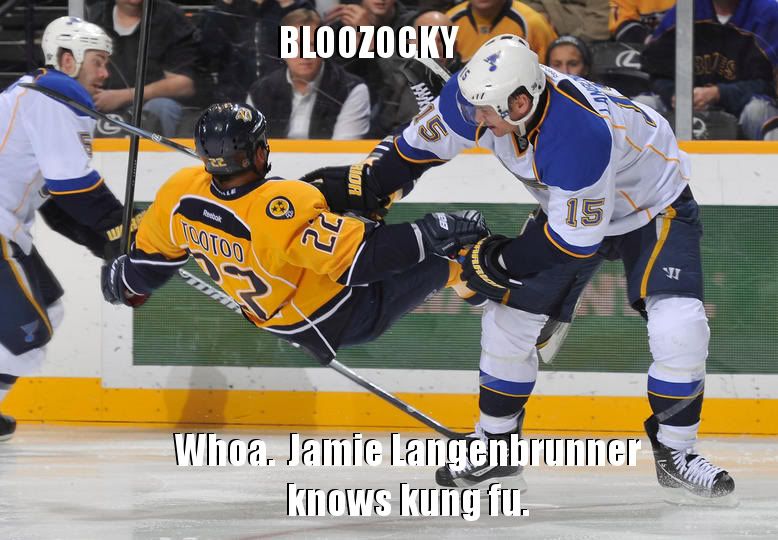 He's also good at telling Jordin Tootoo to sit the fuck down. Speaking of violence to pests, Brad Winchester does to Patrick Kaleta what every hockey player (and most fans) want to do to Patrick Kaleta:
Ben Bishop was shipped out to Ottawa when it was realized that he had NHL talent and he wasn't going to get a shot to play regularly for the Blues behind Halak and Elliott. He gave us one last reason to smile: a hateful thousand-yard stare!
Next up was one B.J. Crombeen. I loved the guy for not taking any shit from Type I Diabetes and playing an enforcer's role. Sadly, he didn't win all that many fights wearing the Blue Note. But when he did, it was beautiful:
Finally, we come to the most recent loss to the Blues, the trade of David Perron to Edmonton for Magnus Paajarvi. I admit it freely: my dislike of Paajarvi is more than just his meek gameplay, it's that the Blues traded a balls-to-the-wall forward who scored lots and would skate through a wall to pick up the puck. Salary, taking stupid penalties and too much stickhandling made him expendable. So here's Frenchie with one last reminder for you of how smooth he could be:
So there you are, folks: a little look into the world of BLOOZOCKY.