By gallagher
Correct me if I'm wrong, but is it snowing outside and Patrick Lalime and Reinhard are playing some distorted game of Dueling Blowouts?
Either someone stuck me in a time machine last week or else I'm having one of those series-ending surprise endings where I wake up and say, "I just had the weirdest dream. The Blues were younger, cheaper, more fun and were actually winning games...."
What can I say about a 6-0 blowout to the Sharks that isn't already being cried about irrationally on every messageboard in town? Nothing, I guess. Let's just hope that the Flames take us lightly and that Curtis Sanford wakes up and realizes that his knee is feeling much better now.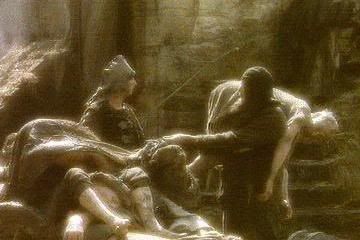 In other news, I've got a lot more to write about, but not enough time. Games Tuesday, Thursday, Saturday and Monday have me all locked up between now and then, but I'll jump on whenever possible.
Best. GT Reader. Ever. Part Deux!
If you don't remember my story from a couple weeks ago about one of my best readers, it is posted below. Tonight, I got to meet him a little better, as he flipped a complimentary ticket to yours truly for a sweet box he had set up. Surprisingly unworried about inviting a homeless-looking small time publisher into a private box, Chris and his mom and the rest of the family had quite the sweet set up. I wish I could have stayed longer, but had a ton of work to do tonight for Calgary.
But I'm telling you, I can pick 'em. I know the hardcore fans when I see them. Here's how I know Chris and his mom are among the hardcore.
Two years ago, they were in a head-on collision which ejected Chris from the vehicle. Both of them suffered broken legs.
They didn't miss a home game.
Our current ownership group should hang their heads in shame. Shame, I says!
Anyway, thanks for the ticket Mom and Chris. See you Thursday.