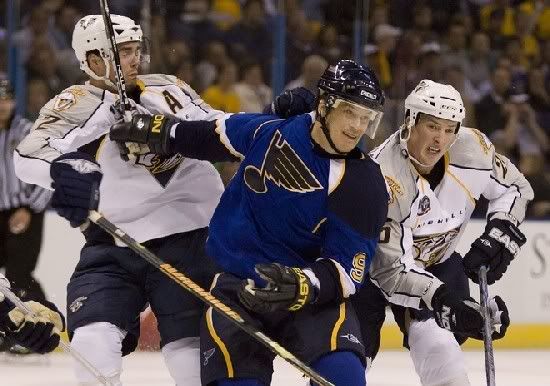 By Brad Lee
It's one day later and apparently last night was not a dream. The Blues kicked off the home schedule with a beat down of the Nashville Predators Wednesday night 4-1. For the AP recap, go here.
It was a pretty sweet night despite the fact that the parking attendants seemed shocked they were out of spaces. The lines to get the free T-shirts that were surprisingly logo free and the still high-quality calendars sucked. Don't even talk to us about the line for the bathroom. We got a mascot. Woot. But otherwise, what a perfect fucking night.
The player intros were sweet while the indoor explosions/fireworks in the rafters were urination-inducing on the surprise meter. Dave Checketts didn't promise a victory, but he did promise a cup parade in the "near-distant future." If anyone can tell me when that is, I'd like to schedule a vacation day or two.
Brad Boyes scored two goals. Manny Legace played well allowing only one goal that deflected in off a defenseman's skate. Dwayne King kicked Darcy Hordichuk's ass in a long fight early in the first.
Â
The best part was the crowd. The attendance was announced at 19,150. The roar was genuine before the game and not just a, "Thank you Brett Hull/Al MacInnis for playing when the Blues were good; we have fond memories." Even during stoppages in the first and second periods, the crowd was buzzing. There was actual life in the ScotTowel Center. It was as shocking as it was foreign-feeling.
We know you've been leaving your thoughts in the game day thread, but post any new ones or specific observations here. And welcome to all the new commenters. We've been trying to keep up and confirm the real ones as soon as possible, which gives you unlimited commenting. You would be shocked to see the amount of spam posts we delete every day.
We have a few things up our sleeves the next few days including Euro Live Blogging, Where's Waldo and Odd Hockey Sweaters We've Seen. And as always, keep finding our sketchy looking vendors outside the DrinkScotch Center.