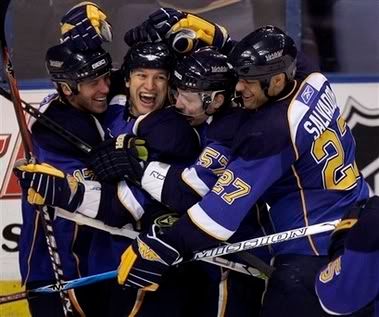 By Brad Lee
Is this for real? Are the Blues really one point behind the Detroit Red Wings for the lead in the entire Western Conference? See for yourself.
We were optimistic about this season. And granted, four games isn't the best sample size for an 82-game schedule, but seriously, these Blues are as dangerous as any team in the league right now. This mix of youngsters and veterans, homegrown players and imports is quickly starting to gel. Players are sticking up for each other. They're getting balanced scoring from role players such as Jamal Mayers, Ryan Johnson and Dan Hinote who had his first ever two-goal game. But the top line seems like its a threat every time it steps on the ice. Manny Legace is standing on his head.
The Blues are playing so well right now, 19-year-old rookie David Perron notching an assist in his first career game is a minor footnote. Twelve months ago, we would have written 1,100 words breaking down every damn shift the kid took because there was nothing else remotely optimistic to talk about.
All this is being done without three of the top six defensemen and guys like Steve Wagner and Micky Dupont getting prime power play time. Suddenly the "Will the Blues make the playoffs?" question seems funnier and funnier every game.
Pardon us while we dunk our heads in a giant vat of blue-colored Kool Aid. It's very refreshing!
Friday night the only goal the Blues allowed was actually scored by Paul Kariya. Brad Boyes has our vote for the Hart Trophy (they should vote on that award on Halloween; screw waiting for the entire season). We haven't even had many opportunities to complain about Martin Rucinsky lately. What the Hell?
Read NHL.com's game recap. Check the stat sheet. It wasn't a dream. Two home games, two games with 19,150 in attendance.
Next game for the Blues is Wednesday at Chicago. We'll try to keep the funny going around here between now and then, especially in a live blog Wednesday night during the Hawks game. Expect dozens of Bill Wirtz jokes even though he's dead. We promise he won't care.