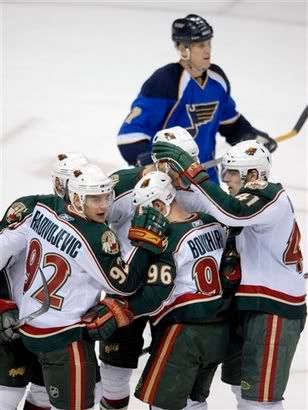 By Brad Lee
Saturday's 3-1 loss to the Minnesota Wild still stings. We've obviously lost all perspective when a game on Oct. 20 bums us out for a couple days. It wasn't a horrible loss, but it was definitely demoralizing. The Blues are a pretty good team. But they are still a few steps behind the conference elite. While that's motivation to keep this train a chuggin', we had hoped the Blues were ready to shock the league and take that step now.
On the bright side, Manny Legace still couldn't be playing better. The third goal that iced the game was an absolute laser that found the upper corner of the net over his shoulder. No goalie in the league is going to stop that shot. The Wild had too many quality chances and the Blues not enough.Â
The only other deciding factor probably involved penalties with the Wild enjoying more of them. We'd look up the exact total if it really mattered. Alas, it doesn't.
One more footnote, we hear that Derek Boogaard eats baby kittens when he isn't on the ice for less than two minutes in an entire game. If anyone has any photographic proof professing this grisly fact about Boogaard, drop us a line. We may have forgotten to take a picture of the sign.
The Anaheim Ducks of Anaheim come calling Tuesday. We'll be ready. Until then, we still feel a little like this: