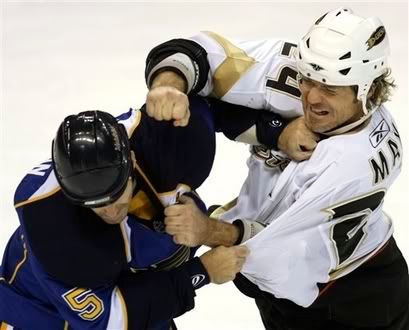 By Brad Lee
In the second period last night against Anaheim, Barret Jackman and cement head Brad May squared off in a bout at least a couple fans were dreading.
There had already been two big heavyweight fights, lots of hard hitting and some chippiness in a spirited, closely-played game. So it figured that May would want to mix it up. And as he and Jackman skated in circles, sizing each other up before throwing a punch, there was this exchange in Section 113 at the Scottowel Center.

Gallagher: Is that Jackman? Who's he going to fight? BRAD MAY! Oh no. No, no. Nononononono. This is a very bad idea.
Lee: Didn't Jackman get his jaw broken in a fight before? Oh crap. Grab him, Jackman! Hold on tight!
And Jackman did try to hold on, but May got his hands of stone free. He connected with at least one powerful punch that left May shaking his left hand as if he broke it. He was relunctant to throw the left again and Jackman took advantage and landed a few punches of his own before the linesemen, obviously fearing May had a broken hand, pulled the two apart.
May and Jackman both went to the dressing room for repairs, May to his hand and Jackman to his, um, face.
Jackman returned in the third period wearing a face shield that was mostly a chin and jaw guard. None of the game stories in the paper or online described his injuries. May was forced to also return to play in the third period. The Ducks were only carrying 11 forwards when they got to St. Louis and they lost Rob Niedermayer with a groin injury at the morning skate and Ryan Getzlaf to an "upper body" injury on his second shift of the game.
The Blues ended up winning the game 4-2 on nine total points from the No. 1 line of Tkachuk, Kariya and Boyes. It was a rock 'em sock 'em, entertaining game.