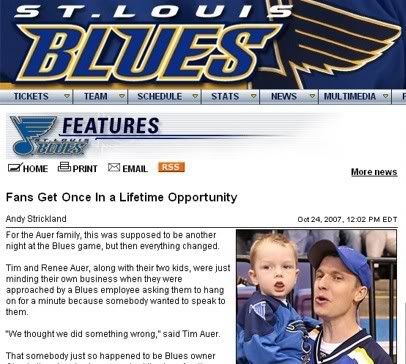 By Brad Lee
Andy Strickland has done a good job of placing himself as one of the preeminent Blues "insiders" in St. Louis media. His gigs are many: co-hosting a morning radio show on 1490 AM, a weekly Blues show Thursdays on 1380 ESPN, the "Daily Buzz" segment on the Roll Home on 1380 featuring Bernie Miklasz and Randy Karraker, his column/blog on Hockey Buzz and a regular segment with the word buzz in it for FSN Blues pregame shows. That's what we know of, there could be many more, including writing for the Blues Web site.
We're not against a guy trying to make an honest buck. He could have 10 jobs for all we care (and he might). We love hockey and we love the Blues, that's why we promise to maniacally update this thing with our twisted views and attempts at comedy. But we're truthful and upfront about it.
Game Time is an unsanctioned publication sold outside the Scottrade Center. We are not endorsed by the team or the city and have had to fight for every inch we've gotten on our street corners and in the parking garage. We have not asked for nor has the team provided us with any support, recognition or favor. While we have some anecdotal instances where some people inside the organization enjoy what we do, you will never see  team management give us any public support. What that means is every word we print, every joke we crack, every insult at the health and sturdiness of Jay McKee, every overly optimistic prediction for the team is ours and made without influence.
Miklasz on his radio show has jokingly called Strickland a part-time assistant general manager for the Blues because he's so close to the team. Strickland has traveled with the Blues on the team charter for regular and preseason games this year. We doubt he's reimbursing the team for his airfare on the charter flights, but we don't have proof of that. We also don't know what other perks he's getting while traveling with the team. And now he has a story on the Blues Web site. We're also guessing he didn't write it for free.
We were critical of Strickland last spring when Keith Tkachuk suffered a minor injury right before the trade deadline and was held out of practice. He admitted on Hockey Buzz that he knew what the injury was, the team didn't want him to report it and assured readers that it wasn't serious. It's as if he was trying too hard to make himself an insider and was sacrificing journalistic integrity for cushy relationships with famous hockey players. We'll repeat the same questions we asked then: who does Strickland work for, the Blues or his audience? The players and team management or his listeners?
Jim Thomas with the Post-Dispatch is THE Rams insider. Last week when a player cursed at coach Scott Linehan during the closed portion of practice and Linehan went ballistic at the whole team, Thomas had the credibility and the motivation to use unnamed team sources to report that it was Claude Terrell. This week Terrell was arrested for assault and was cut from the team. Thomas' reporting furthered that story and really gave a peek at the turmoil on the team. If a similar incident happened with the Blues, would Strickland keep it quiet? Would he allude to who it was or would he name names? When he reports on the team, is he relaying what he wants or is he talking about what the team wants him to talk about? Here is an excerpt from his latest on Hockey Buzz:

"While walking around the concourse with Blues Owner Dave Checketts prior to the Anaheim game I was amazed by how many fans stopped Dave to tell him thank you. You would think he was the second coming of Hannah Montana!
"It wasn't just the diehard fans wearing jerseys either, but also the people in suits that went out of their way to say "Thanks for everything you've done to bring Blues hockey back." It was pretty interesting to see up close. I can tell you that Dave feels and appreciates the love from Blues fans and feels real good about the job he and his staff have done thus far."
It's hard to read that and not wonder if the team had any direct or indirect influence on what he wrote. He spent that time with Checketts reporting his story for the team Web site. By doing at least one story for the Blues and accepting perks like flying on the team charter (the Post-Dispatch and many other papers do not allow reporters to travel in a similar fashion), Strickland is calling into doubt everything he says and writes about the Blues, a franchise that just a year ago paid for a Web site made to look like it was being run by fans when it was in fact paid for by the team. Strickland needs to fully explain his affiliation with the Blues to maintain his credibility.