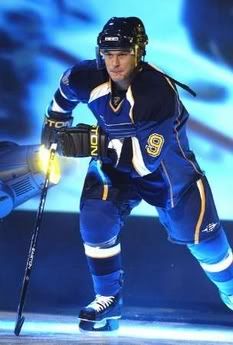 By Brad Lee
The Blues skate again on home ice tonight, their sixth home game of the season in 1o total games. The opponent: the craptacular Phoenix Coyotes.
Here's the AP preview (courtesy Yahoo!).
Strickland said on The Roll Home with Miklasz and Karraker on Monday that rookie David Perron will probably play in his third game of the year and for the first time in back-to-back contests. Mike Johnson is apparently still with the team after clearing waivers. Erik Johnson is about one game away from returning from the lineup and the Blues really need to show they can handle the bad teams in the league and not bring their game down to the other team's level.
While Columbus has played a lot better and is actually on spot in front of the Blues in the standings, we're not convinced. They play a slow, boring, methodical brand of hockey. The Blues fell into their trap last week and played at their speed and intensity level. They can't afford to do that tonight against a less-talented team. These points are too precious to throw away.
No local television and surprisingly enough, no Coyotes broadcast, according to their Web site. So unlike last week when Center Ice subcribers had the chance to watch the Anaheim game on TV, it doesn't appear to be an option tonight. Besides, they're selling $25 autographed pucks for charity, there's trick or treating in the concourse (we think) and there's some sort of Ticketmaster deal for half-priced tickets tonight. More details at the Blues' Web Site.
We don't expect a live blog tonight unless Gallagher or someone figures out how to do it live from the arena, but feel free to fill up the comments with insight and wittiness and all that.