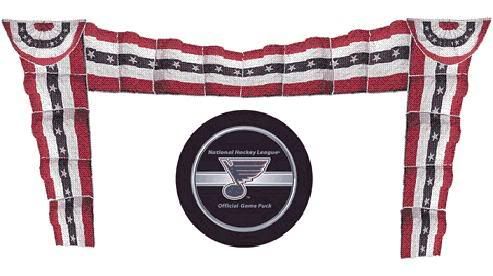 Â
By Brad Lee
The Blues face off in Phoenix in just about an hour for the first game of the season. And we'll be here allllll night. There's this thing called the live blog where some poor sap sits at his computer and watches a game and gives some witty comments and hopes others jump in and do likewise. Hi, I'm the poor sap. Please keep me company.
After watching the Blues in-depth draft documentary and the first day in St. Louis for Paul Kariya, FSN is now showing an "In Your Own Words" with Blues majority owner Dave Checketts. He's talking about the state of the game, his vision for the team and about his background. He doesn't look as botoxed on TV as he did in this picture from Commerce Magazine.
For your preview-reading pleasure, hear are the game breakdowns by Yahoo! and our kindred spirits to the north, TSN.
We'll post again close to game time. Please, PLEASE leave your comments and if you're not already approved, I'll let you in the door quickly.
PREGAME:
FSN got a camera inside a team meeting as they prepared for tonight's game. For some reason Willem Dafoe was giving the game plan.
"Practice is 39 minutes." Now that's paying attention to detail.
As Murray was sending them out, he asked Perron why he was laughing about something and was all serious. Perron just shrugged and Murray said, "That was a test David." On the way out, he asked "Stemper" if he bought dinner for the boys last night.
"Erik, I want you to think you're the strongest guy out there on the ice."
He knows his players, he relates to them, he knows how to speak to them so they understand. He's detailed but still is keeping the mood kind of light and REALLY positive. I wish I could find some youtube video of a Keenan practice. I need to learn some new swear word combinations.
By the way, I'll be on beer No. 3 by the opening face off. Whatever it takes!
Seriously, I can't wait for the first really dumb thing Bernie Federko says. It won't feel like the season has really started until then.
Federko: "I think everyone was pretty disappointed when Erik Johnson chose to go to the University of Minnesota instead of signing with the Blues last year." Really? I don't remember thinking that.
Scratches for the Blues: Matt Walker, David "White Skates" Perron and Petr Cajanek. Apparently Petr's Uhaul hasn't made it back to Peoria yet. For both rosters, go to NHL.com. One of the "regulars" around here said he thought it was smart coaching for Perron to sit and watch a few games before jumping in for his nine-game tryout (he can play nine games and go back to Juniors without burning a year off his eligibility for abitration).
Federko: "Well Dan, it's always fun to start the season," was his transition to the lines. Awesome.



Forward lines: Kariya, Weight, Boyes


Rucinsky, Tkachuk, Backes


Stempniak, McClement, Mayers


King, Johnson (Ryan), Hinote


Defense: Salvador, Brewer


Jackman, Johnson (Erik)


Wagner, Backman


19:30-It's still odd to see Gretzky behind the bench. And I am already distracted by the light-up sign in the dasher boards. HATE the glare.
18:26-First penalty of the year! Huzzah! Kariya was obstructed in the offensive end, he retaliated by tripping and was called. No worry, the Coyotes' power play was even worse than the Blues last year.
16:55-"do they have lighted signs along the boards? the reflection on the ice is distracting me already." -- commenter Jessica. Totally agree with you. And the penalty is killed without so much as a scare.
15:01-David Backes cut between both defensemen and had a chance on net...until he was pulled down. And there's no call. Thanks for not evening it up, zebras.
14:33-I can tell it's early in the season, I don't remember all the numbers yet and it's weird seeing McClement wear 18 after he gave up 9 for Kariya. And when I say gave up, I mean Murray told him to.
12:36-Brad Boyes skates hard and breaks up an icing and then the Yotes ice it. If you look at that official roster, No. 18 is Dwayne King. If my name was Dwayne, I might go by my initials too.
11:30-John Kelly claims Rucinsky is the last NHL player using a wood stick. Obviously he hates the environment.
9:59-Another penalty, I think it was Boyes for being lazy and not skating in the neutral zone and then holding slashing the stick out of the Yote's hands. Before going to the break, Kelly said the $999 season tickets are still available. The season ticket rep who talks/hounds my wife said those would be gone the first week of July. Hurry while they're still availabe!
7:15-"If my name was Emmanuel, I, too, would go by "Manny." -- commenter John. Wow, I've never noticed that before. Emmanuel? I bet when he was a kid the others said he had too sissy of a name to play forward and made him play goalie.
5:30-Both teams are buzzing with some scoring chances at both ends. Carcillo barely missed shoveling it over a sprawled Emmaneul Legace. Both teams for the first 14 minutes looked really disjointed on the break and in the offensive end. Just wait until the Blues go on the power play!
4:07-Kariya got the puck with a chance to make a break-in and he dumped the puck. Two defenders were on him at the blue line. Should be interesting if he keeps drawing that attention.
3:29-"…and Bud Light continues to have the best commercials on television. excellent creative team those guys have. the Blues PR team should borrow some notes from those guys."--commenter Dooks. They did. Peter McLaughlin.
0:24-Backes got the puck to Tkachuk down low, he missed and the Yotes went the other way. EJ (easier than typing Johnson and then worrying about which Johnson) made the nice play to go the other way. Kariya also had a one timer in the slot. He couldn't get much on it despite Federko gushing about the speed of the release.
And that's the first period. Shots on goal: Phoenix 9, St. Louis 6 thanks to three shots in the last minute or so for the Blues. They were starting to find some rythm together. All this typing means less drinking. I'll be back for the second period...in a new thread so this one doesn't get insanely long. Join me there, won't you?