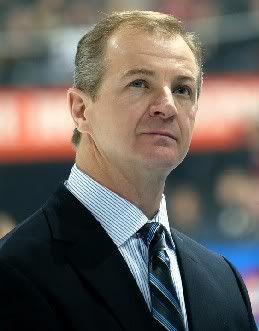 Â
By Brad Lee
What follows is what we transcribed from the NHL Network's broadcast of the Hockey Hall of Fame induction of St. Louis Blues defenseman Al MacInnis (the name of his Midget coach is phonetic).

Before I begin, let me say, I do not claim to be the best judge of talent, but I cannot imagine being part of a greater induction class than the one that I belong to with my fellow inductees, Jim Gregory, Scott Stevens, Ron Francis and Mark Messier. Gentlemen, the privilege of entering the hall this evening is made all the more special with you as my classmates. Congratulations to all of you and thank you for your contributions to our great game. At every stage of my life, hockey has given me something I wouldn't otherwise have: opportunity, challenges, blessings, rewards, responsibility, friendship, and most importantly, family.
Hockey has brought me here this evening to the Hockey Hall of Fame to accept an award that is simply unimaginable. We all grow up dreaming of winning a game seven in overtime or raising the Stanley Cup over our heads. But no one pictures themselves making an acceptance speech in the Hall of Fame. And that's why tonight is the most moving and humbling experience I've had in my career. For that, I sincerely thank the selection committee, but above all, I thank this great game of ours.
My career and my life have been influenced by countless coaches, teammates, family and friends. In my youth, it started with my parents, Alex and Annie Mae MacInnis who made incredible sacrifices so six MacInnis boys could play the game of hockey. I am grateful to Albert MacDonald who allowed me to travel to tournaments and genuinely experience all that hockey has to offer. I thank my Midget coach, Don Mceazy who saw my skating on right wing for what it was â€" poor. And rather than releasing me, suggested I play defense, so I did.
I was only 16 when I headed West to play Junior for the Regina Pat Blues. Being away from my family and friends for the first time nearly 3,000 miles from my home would have been daunting if not for the fortune of rooming with Barry Trotz and the friendship of teammate Garth Butcher. Later with the Kitchener Rangers, I continued my development with roommates and teammates I grew very close to. Mike Eagles and Wendell Young. I thank all of these men for the roles they played in my career and life. Thanks to good faith and my good friend Don Meehan, I was lucky to play for only two teams in my National Hockey League career. And I'm proud to say that both were and are first class organizations, the Calgary Flames and the St. Louis Blues.
The Calgary Flames epitomized from Harley Hotchkiss and his partners to my coaches, teammates and trainers to Gary Suter, my roommate for nine terrific seasons. And to the one man who set the ultimate NHL example for my generation, our captain, Lanny McDonald. I will always recall my career in Calgary where I won a Stanley Cup with extreme fondness. In particular, I must thank two men for making it possible to play in the National Hockey League and wear the Flames sweater. Cliff Fletcher who understood he would have to be patient with this young defenseman. And patient he was. And Al McNeil who emphasized conditioning, fitness, discipline and insisted that I would succeed. I did not want to let him down and I thank him for his guidance.
In 1994 I was traded to the St. Louis Blues. I am grateful to the two men who brought me to
St. Louis, Chairman Mike Shanahan Sr. and General Manager Ron Caron. And I thank our new owner, Dave Checketts for revitalizing the Blues franchise that I continue to represent with much pride. I am grateful to my coaches, teammates and trainers in St. Louis. And I'm also deeply indebted to the man who made it possible for me to finish one career on the ice and start another in the front office and allowed me and my family to call St. Louis my home. Thank you Larry Pleau. And to Wendy Pleau, keep battling. Everyone in hockey is thinking of you.
The MacInnis family is big, caring and always near no matter how many miles separate us. My parents, brothers and sisters were all instrumental in my arrival as a player and person and their effect on me is profound and lasting. Above and beyond all there are my children, Carson, Ryan, Lauren and Riley. Their mother, my wife and best friend Jackie. The stability, support and love that Jackie and my children have given me without condition is why I'm here tonight. I love you and I thank you.
My life's journey has been blessed and I thank my family, friends and the game of hockey and the good Lord for my continued good fortune. With that, my final thought this evening is a tribute to where this wonderful journey began 44 years ago. To the people of Nova Scotia, you are my neighbors, my classmates, my relatives, my friends. You are good people. To represent you as the first person ever from Nova Scotia to be inducted into the Hockey Hall of Fame is a privilege of the highest degree. My place in this hall is your place as well.
Thank you and goodnight.