Â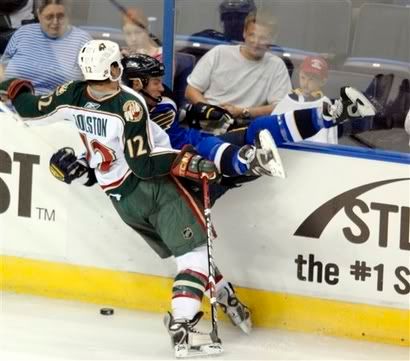 By Brad Lee
Apparently Michael Gross, the actor who played the dad on Family Ties, is writing a hockey column for SI.com. Under a fake name.

In this week's colum, Gross/Farber writes about how fans should visit the Hockey Hall of Fame because it's not in a small town like Cooperstown. Great premise. Then he has some quick-hitting news and notes including this one about the local team:Â
The scuffling St. Louis Blues are going to reevaluate their conditioning program in the coming days. The problem: the Blues might be too fit. The program, designed by strength and conditioning coach Nelson Ayotte, is so demanding that team executives think it might be draining the players. "We're looking at it all," St. Louis president John Davidson said. "Not what we're actually doing as much as the volume of it. Paul Kariya's said he just doesn't feel like he's got his legs." If Kariya, assiduous in his conditioning, has been worn to a nub, then it surely is time to pull back on the throttle.Â
First of all, it's interesting that he called the team "scuffling" because this column was posted Wednesday November 14, 2007 1:38PM and updated: Wednesday November 14, 2007 1:57PM. That's the day after the thrilling, non-scuffling 4-3 win over the stranded in Cahokia Red Wings. But whatever, they're still not very good in the standings and one win over the best team in the Western Conference doesn't guarantee the scuffling to end.
But it's interesting that the team is actually taking a look at this issue. We never remember a previous Blues squad accused of training too hard. Most fans have been critical of the team for being too slow for several seasons now. What a novel concept.
For what it's worth, a guy we know who used to have season tickets before the lockout but had strayed from the team since recently told us he's watching again and is shocked at the overall team speed on the Blues. Watching every night, that kind of difference gets lost in the shuffle. Hopefully the coaching staff is paying attention and will avoid wearing Kariya down to a nub. He's short enough as it is.