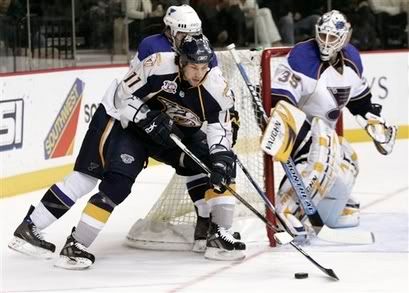 It's 2-2 after two periods. I'm in the driver's seat. We'll be bringing the funny/intensity/wet hacking coughs.
Assistant coach Lex Luthor thinks the Blues have not generated enough scoring chances. He looks pissed.
18:50 Blues PK coming out strong. Danny DeVito behind the Nashville bench cannot be happy.
16:08 The BTK Line gets a 3-2 break-in and can't convert. Kind of a microcasm of much of the Blues offense tonight. Usually they're killers.
When Backes comes back, they'll have a hard time getting Stempniak off the Weight-Perron line.
12:51 The Blues really don't want OT and give a team in front of them a point. No jinx. No jinx. No jinx.
9:40 Blues kill off Perron's rookie mistake penalty behind the other team's goal. Tofu also with the big save on a Radulov breakway. How do you let that happen on the PK?
8:00 End to end action. Exciting and scary all at once. This has become a true rivalry now. Who would have thunk it a few seasons ago?
McClement just hit the crossbar. Tally one in the points tinked away column.
5:15 Why the Hell is Tootoo still getting ice time at this point in the game? He misfired on a scoring chance and then mixed it up with Perron at the bench and his limenate Gelinas gets whistled for a penalty. Big power play.
4:30 Johnson made a big play at the blue line and then they wasted it. Less than a minute left in the PP.
3:15 Power play ends without a legit scoring chance. I wonder if the Preds have a lame ass taco promotion like the Blues.
2:40 Federko is courting disaster talking about Kariya's prowess in the shootout. That's a long time from now, especially as the Blues ice it here.
0:30 Tootoo was back out? Huh?
And we've been relunctant to type almost anything waiting for the clock to hit zero. Icing with just a few ticks left. We're really close to the Blues' first overtime game of the year. Only four other teams have avoided an overtime or shootout loss.
If the Blues score in OT, they will continue having a perfect record when scoring three or more goals. We like consistency.
OVERTIME
4:05 Boyes and Kariya start the extra session with the new No. 1 defensive pairing, Brewer and Salvadore. GREAT SAVE by Mason after a tremendous pass from Kariya to Jackman and then Stempniak was robbed. That guy is having a tough stretch.
3:30 Preds absolutely buzzing. They should have ended it twice already.

Manbones Says:
November 17th, 2007 at 9:29 pm e
Oh jeezus that was scary.
Well put.
2:25 Very entertaining/thrilling/scary/anxious/stressful/ulcer-inducing overtime so far. Glad they haven't had to do this before now this season.
1:09 You can tell Kariya loves the extra space with 4-4 and he really wants to win this thing. Can't blame him.
0:36 Tofu with the save. Broadcast just mentioned Perron hasn't seen the ice in OT. Too bad.
Shootout it is.
My prediction for the STLÂ lineup: Stempniak, Boyes, Kariya.
Perron is the first shooter. Wow. No pressure, rook.
Perron: Shot, and I think he it the post. Damn.
Dumont: Tried to go five hole, Tofu closed up and sat on it. Nice.
Kariya: Shot, save by Mason. Crap.
Erat: BIG SAVE TOFU.
Boyes: DEKED MASON OUT OF THE CREASE. Holy shit. Come on Tofu.
Radulov: Tofu looked behind himself for the puck...it's underneath him! That's a Blues win and three in a row!
Hey Manbones, what's your take?

Manbones Says:
November 17th, 2007 at 9:41 pm e
Nice win by the Blues. Hannu played pretty well if you ask me.
Thanks, Manbones for sticking around. Great week for the Blues.