By Brad Lee
Yes, the Blues are playing at home tonight. Yes, we don't hardly ever have live blogs for home games unless the author lives in Sweden. But I'm sick with a pre-Thanksgiving cold (huzzah!). The only antidote is to live blog.
When last we saw the Blues and Predators, this happened:
And then THIS happened: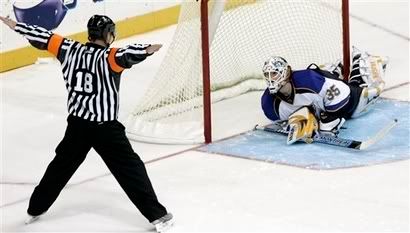 To review, the game is on the FSN, Emmanuel is expected back in net, Erik Johnson and David Perron can't still legally drink in St. Louis and Jordin Tootoo is still a little prick that deserves to be squished on the glass like a giant bug on the windshield of a 1985 Cutlass.
We'll be back at 7:30 with the start of the game.
Pregame:
Bradley Boyes has 11 goals on the season, nine of them have been scored at home. He also has three goals in just two games vs. Nashville.
And Tootoo is still a fuckface. Wait, can I type that on the Internet, the word Tootoo? Sorry, kids.
Bernie just said Mason's record was a game below .500 which is strange for him considering last year. That's pretty much the only year he's had a lot of playing time. Smart.
19:29 Fitting the Preds from Nashville have a guy named Jed. They probably did that to try and sell tickets. "Hey momma. They gots a guy with my name playing the hoc-key downtown. We shoulds git tickets."
19:00 Jason Arnott is out, possibly with a neck injury. That'll hurt Nashville's offense.
18:35 The M. Johnson-Hinote-McClement line was buzzing. Salvador with two good shots from the point. Bernie thought it was more important that two Preds had broken sticks.
17:37 Weight-Stempniak-Perron also with a chance. Liking this line combo more and more. They're going to the net and Perron was looking for a trash rebound again. That guy doesn't mind wacking into the net a puck that's loose in the crease. Someone please tell Ryan Johnson that he can do the same thing.
15:30 We're pretty sure Matt Walker and Jay McKee are watching in the press box. Again. McKee's last game was Nov. 9. Walker's was Oct. 25. Holy crap, do you know how bad our Blues-'o-lantern looks right now? And Walker hasn't played since before Halloween.
Perron and Weight with chances and Perron is now wincing in teen angst on the bench. Or pain. Hard to tell the difference, but Fallout Boy will help him get through it I'm sure.
13:00 Emmanuel just tried clearing the puck through David Legwand. And since there isn't a giant hole in his abdomen, it almost went in the Blues goal. Sweeping the puck to the corner is not a bad thing.
It appears that D.J. Dwayne King is in the lineup at the expense of Gallagher's Least Favorite Player, Marty Rucinsky. At least McKee and Walker have someone to make fun of during the game. Maybe we'll have a little impromptu Blues One Act Theater during an intermission trying to capture the comdey potential of the Blues press box.
11:41 Legace just made a save with his face deflecting the puck into the netting above the glass. He didn't even flinch. No wonder goalies are so smart.
11:00 Tkachuk is in the box. The Preds like to take shots from the perimeter without any traffic. Color me unimpressed.
9:50 Emmanuel with a flashy glove save. While goalies are kind of dumb for volunteering for target practice, it is cool when they make a kind of routine glove save look like a big deal when they wave the bigg trapper in the air.
5:16 End to end action for a minute with Legace making the big save followed by Stempniak drawing an interference call and then Perron giving a nice shot followed by taking one behind the Preds' goal. And then he got a "Welcome to the NHL Mr. 19 Year Old" facewash. And coming back from commercial, teen heart throb is in the box while Tootoo got a double minor. Or Weber. The broadcasters are a little confused. God I hope they log on during the intermission some nights.
The crowd seems decent. Gallagher was afraid he'd be there with a few dozen of his closest friends.
0:25 Stempniak provided one of the more exciting moments in the period by completely whiffing on a one timer from the point. I wonder if he's taking his bank book out with him and it's weighing him down.
And we go to the intermission 0-0 with shots 10-6 Nashville. Come back to a new thread.

gallagher Says:
November 19th, 2007 at 8:08 pm e
weird crowd tonight. very full for a Monday with lots of students. also the woman next to me is wearing way too much perfume to go with her denim tuxedo.
I demand a cameraphone shot e-mailed to me, please. That or a photo of the Answer Man. Your call. I don't ask for much.