Scene: The DrinkScotch Center press box, high above the action...
 Love me some press box nachos. They suck in Chicago and Columbus. Ok in Detroit. Can't wait to see what they're like in Dallas and Calgary because everyone knows, I'm a hick.
 I'm just going to sit in the corner and be quiet.
 Hey there Fragile Jay McKee. You have the weirdest name on the team, but I like you. You're a good guy, Fragile Jay. Is that one of them hyphenernated Frenchy names? I'm from Western Canada and on every Blues player profile they mention I like country music.
 Hey Matt. No, my name isn't Fragile or hyphenated or French. I see you've got nacho cheese on your suit again.
 Dang nabbit. I just had this cleaned. The ribs in the Nashville press box were yummy.
 I'm getting quite attached to these toasted raviolis. Never seen anything like them. I guess anything is good deep fried and with marinara sauce.
 See, I knew you was French, talking about mariner sauce. Is that with snails?
 Marinara sauce, hick boy. At least we're not the only two veterans up here tonight. Here comes Martin Rucinsky.
 Hey guys! The view up here is very nice. We get paid to watch zee hoc-key game? High five!
 With my bone structure, a jump from this height would be over almost instantaneously...
Fine'
9:33 Blues are up 2-0 with another goal for Bradley Boyes from Paul Kariya. Yeah, that trade and free agent signing seem to be working out. And of course, I forgot to start Emmanuel on my fantasy team. Sigh.
7:07 Gallagher's refereeing neighbor just called McClement for tripping. Big kill right here.
5:19 Great penalty killing by Jamal Mayers. He blocked a shot and then kept the puck out of the zone.
4:07 Erik Johnson with possibly the best hit of his NHL career in the open ice. Plus, it was on 22, Tootoo. And then Doug Weight did a spinorama to get the puck centered for Stempniak on a 2-1 chance. Of course he didn't score, silly.
3:33 Coming out of commercial, they have a camera in the broadcast position showing the two announcers conversing like drinking buddies. And behind them is a corner of the mezzanine section. It's about half full. Great to see that.
3:17 Wendy Pleau is watching the game on TV at home. Nice to hear.
2:43 Icing on the Blues. Getting closer to a win. Not going to mention what Emmanuel is pitching. Good to note, the Blues were 1-4-3 against Nashville last year.
2:13 Another flashy glove save near his head for Emmanuel on Radulov. I was hoping to see him do his Karate Kid pose again.
I guess my comedy stylings derailed everyone in the third period. Fragile Jay McKee apologizes.
1:50 Tkachuk takes a high sticking penalty on the faceoff and now the Predator is on the bench trying to cut himself pro wrestling style but the refs didn't buy it.
1:30 Empty net. And then Bryce Salvador got his stick held. Thanks, Nashville!
1:03 Weber to Bonk ends the shutout. Damn. Nice shot from the point and then the deflection. Mason back in goal for the moment.
BLUES WIN, BLUES WIN, BLUUUUUUUUUUES WIN!
Announced attendance (at least on the Internets and not necessarily at the game): 15,239. Not bad for a Monday night right before Thanksgiving.
Epilogue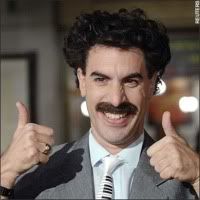 Zee Blues vin! Fragile Jay, high five! We are now tied to be the No. 3 hoc-key club in all of zee Central Division. Very nice.