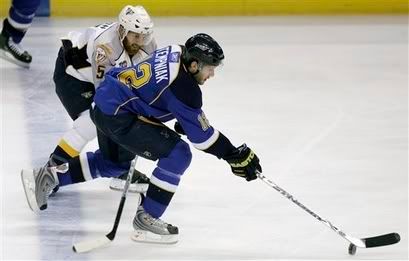 By Brad Lee
Through 18 games, Lee Stempniak has 10 points. Not bad, but not great either.
Oh by the way, he has one goal. He scored that lone tally in the third game of the year, the home opener against Nashville. That was back on Oct. 10. Since then, he's gone 15 straight games without scoring a goal. Surprisingly, that matches his season-high drought last year as well, right around the same time.
Last year, he went from Nov. 14 to Dec. 17 without scoring a goal. But unlike last year, Stempniak is at least notching some assists to keep his name on the score sheet. And while you can blame last year's stretch of not scoring goals on reduced playing time under the soon to be deposed Mike Kitchen, you can't even begin to argue that point this year. Stempniak has seen lots of time on the power play and the penalty kill. He's been moved from his usual linemates Jay McClement and David Backes, who also weren't filling the net as of late when Backes was healthy. Stempniak is playing now with rookie David Perron and Doug Wight who has yet to score a goal this season.
Before the Blues rattled of four wins in a row, including back to back victories over Nashville, it was written about and talked about and blogged about and called in to sports shows about that thee Blues were only getting scoring from one line. That's still a valid criticism.
Tonight against Nashville, Bradley Boyes and Paul Kariya scored. Saturday against Nashville Boyes scored in regulation and had the lone shootout tally. Stempniak and Weight did chip in on a Perron goal that night.
Friday night vs. Columbus, Kariya and Boyes scored again with sniper Jamal Mayers getting an empty net goal. Tuesday against Detroit, Perron had those two goals along with a tally for Mayers and a goal for Kariya and Boyes' linemate, Keith Tkachuk.
So on this four-game winning streak, the totals look like this:

BTK Line: 6 goals
Weight and the Kids: 3 goals
Muckers: 2
It still seems like if the opposing team can shut down the No. 1 line, the Blues don't have a chance. Granted, a lot of teams are like that but it seems magnified with the Blues playing pretty well and in the middle of a dog fight in the Central Division where every team is dangerous every single night. The Blues are 6-4-0 against their own division.
But still, what's wrong with Stempniak? Too much money in the offseason? Did we give McClement too much credit last spring? Is he actually getting too much playing time? Does playing with Doug Weight mean not scoring goals?
Please, your thoughts in the comments.