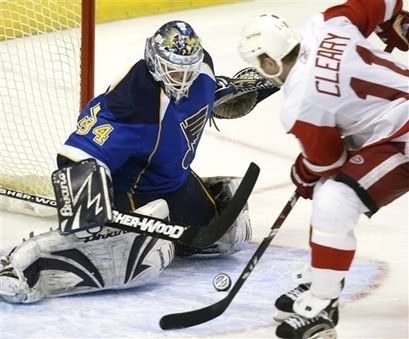 By Brad Lee
Take time out of your busy holiday preparations and hang out while the Blues stuff a turkey, and by turkey we mean the Detroit Red Wings. It would warm our hearts to see D.J. Dwayne put his fist inside Chelios' mid section and wrip out his gizzard and replace it with chopped bread and celery. Right on the ice even!
We'll have the live blog up and running to warm you on what looks like could be a cold and dreary night. Pop a few cold ones and keep us company, won't you?
More near game time, which is 6 p.m. 6:30 p.m. in St. Louis. We'll get the party started in this here thread, so feel free to throw some pregame comments up.
***
Inside the visiting coache's office deep in the bowels of Joe Louis Arena...
 Hey coach. Lex Luthor said you wanted to see me.
 Yeah, Jay. I thought we should talk for a second.
 That's good news. I am so relieved. You don't know what it's been like to actually be healthy and still sit in the press box. Thanks for putting me in the
 Jay, you're going to be a healthy scratch again tonight.
 Oh.
 You see Jay, we've won four in a row and I don't have the first clue how we've done it. Stempniak's crying on the bench. Weight tried retiring during the second period against Nashville Monday. I've got Brewer and Salvador playing the last minute of games because I can't trust anybody else. If Boyes slips and falls in the shower or Legace realizes he's not in Detroit anymore, we're picking first overall. AGAIN. I just figure it's good karma to keep you upstairs.
 Come on coach, it's not that bad. Me not playing has not been the key to the team winning.
 How would you know? By the time the trainers finish wrapping all your joints and inflating your full-body protective gear, practice is usually over. And I'm superstitious. I haven't changed underwear in more than a week. These socks didn't used to be brown.
 Thanks for sharing. Come on, put me in coach. I can help this team win.
 Your shot is less accurate than Ryan Johnson. You pass worse than Jamal Mayers. You skate slower than Legace in full gear. Your skill is falling down in front of the puck. When you can do that and deflect it in the other team's net, call me. Meanwhile, watch another game in the press box. Try to not let anyone get out of hand up there. I'm counting on your veteran leadership to set a good example for players I don't want anywhere near my good players.
 Wait, who's not playing tonight?
 Fragile Jay! Come with me, I'll show you were the line for the buffet starts. Stay away from the nachos but the hot dogs are made mostly from beef, so we got that going for us.
 Obviously I need a new agent.
Fine'
We'll be back with pregame genius commentary from Bernie Federko in just a little while.
19:38 Holy. Shit. Zetterberg puts the Wings up 1-0 on a power play thanks to Eric Brewer. I think it was karma. Rucinsky started the game with Weight and Stempniak.
18:17 If McKee was out there they wouldn't have scored. I'm almost convinced of this. And the Blues look like some of the soldiers in the first few minutes of Saving Private Ryan.
16:55Â Legace with a save. Brewer tried to clear with a big sweeping move. However he hit Tkachuk's stick and almost put it in his own goal. Sweet.
Even Kirk Maltby is getting shots on net. Bad sign. Also, a high sticking penalty on Barret Jackman. Jay McKee would not have committed that penalty. From the press box. Because he's eating nachos with Matt Walker. Anyway to keep this game light, that' s what I'm all about. We may scrap the live blog totally and just have interactive One Act Theater or something. God, I hate it when the Blues get dominated at Detroit. So demoralizing.
14:55 One of Bernie's keys to the game: Det PP vs. STL PK. Ya think? I bet he typed that after the first goal.
14:24 Castoff former Detroit netminders are facing off in this game with Osgood in the net opposite Emmanuel. And watch Manny. He's moving around a lot in the crease, looking frantic. This is not the same brick wall the Blues have enjoyed for the last two weeks. I predict a Tofu sighting by the third period.
12:56 John Kelly is saying the name Johnson A LOT. It's uncanny, like he's everywhere at once.
12:34 Hey commenters, anybody notice who Perron is playing with? And if you say the white AND black Jamal Mayers, I'm going to break something.

Dooks Says:
November 21st, 2007 at 6:51 pm e
heh, they're starting Osgood tonight because we owned Hasek last time
Interesting theory. Probably not too far from the truth. Also, they may have forgotten to stop by his assisted living center and pick him up before the game.
7:34 Nevermind, the rookie is back with Dutchie and Weight. And Stempniak just hit Osgood on a 2-1 with Perron. A year ago, that's hitting the back of the net.
Raise your hand if you find yourself at work or washing dishes or in the car and for no reason you break into song "Gotta choose Fusz!"
5:30 You know hockey has lost a little of it's luster when you're watching a game from Joe Louis and can see women getting up and walking around in the stands during play right in front of the camera.
4:27 YEAH! Another Detroit power play! Maybe the BLues will learn what a real power play looks like. That's three power plays for the Wings and zero for the Blues so far. Ah, so that's the cost of booing Gary Bettman.
By the way, if you stop by and check the thread, leave a dang comment. It's the least you could do on Thanksgiving Eve. By the way, in Detroit do they set anything on fire on Thanksgiving Eve?
2:27 Blues killed the penalty. And then right after, Emmanuel showed he's into leather by flashing the catching glove.
Who knew Hudler is pronounced Who-dler. Well, in Federko Land at least.

Marcus Pettersson Says:
November 21st, 2007 at 7:08 pm e
What's thanksgiving? Just kidding…Â
You cazy Swedes. I bet you have to work the next two days too. Poor bastards.
0:26 John Kelly wants to make out with Zetterberg, tongue and everything. At least that's what he's talking like. Get a room.
And that's the end of the first period. "And the Blues are fortunate it's only 1-0," John Kelly said. Amazingly, I was in the middle of typing the same thing.
We'll have a new thread for the second period. Hopefully it'll be a little different story. Or I could say screw it and just start drinking....