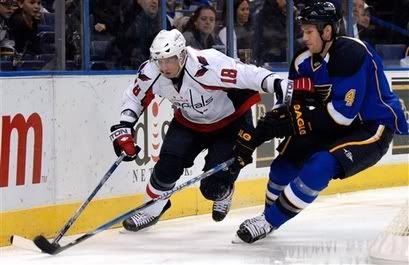 By Brad Lee
Something caught my attention over at the rumor monger's Web site. This little nugget was in Blues employee Andy Strickland's column from Monday:

Did anyone else hear the cheers for defenseman Eric Brewer Friday night when it was announced he would not be in the lineup against the Canucks? The coaches are thrilled with the way Brewer has shutdown the opposing team's top players in recent games.
We've noticed a few comments around here in the last few weeks that seemed riled up at Mr. I Was Traded For Chris Pronger. It seems as though a lot of Blues fans are not Brewer fans.
Now we've been as hard on him as anyone else. Hell, we still call him Mr. Roboto because he didn't smile the first season he was here. He was joylous and looked like there was no way he ever wanted to stay in St. Louis, especially knowing that he was going to be a free agent after last season. But a funny thing happened on the way out the door for Brewer. He started listening to new coach Andy Murray and he really responded. He was a good player under Murray. He even started smiling (ok, grinning). And then he went and signed a contract before filing for free agency.
Gallagher's take at the time was that Brewer was the kind of offensive-minded defenseman the Blues needed and would have to overpay for in free agency that summer anyway.
We've documented the logjam at defense with eight healthy guys. We've also written how surprising it is to see Salvador and Brewer play the last minute of close games. Brewer has been put in some of the most critical positions this team has had in the last few weeks. And it's hard to see where he's let Murray down, at least during crunch time. He does take a few too many chances and has been responsible for some of the shorthanded chances the Blues have given up.
What's your take? How do you feel about Eric Brewer? If the Blues trade a defenseman, would you suggest Brewer or someone else?