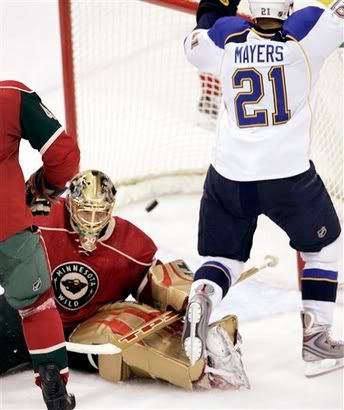 By Brad Lee
A Live Blog! is up in the air tonight. With a home game tomorrow, Gallagher will be in his downstairs lair overseeing all the magical little elves that put Game Time together. My social secretary did not check the Blues schedule when making plans for us, so I'm out probably most of the game. And we have no idea if the game is on live in Sweden or if Marcus is still even sober with the time zone difference. So kids, you might be on your own tonight to provide ongoing commentary/expert analysis and general hilarity.
A few news and notes to get you started. Required reading: Jeremy Rutherford's Morning Skate blog. In case you're too lazy to click the link, here's the high points:



Martin Rucinsky has flown back to St. Louis with an injured hand. David Backes is back in the lineup and will play.


David Perron is keeping Matt Walker company in the press box.


The BTK line is still on double secret probation with Tkachuck playing in between one of the Johnsons (not him, the other one...no, the other, other one) and Backes.


Emmanuel Legace took a hit in practice Thursday that required some ice, but he's expected in net tonight (with I guess Hannu "Look At My Ears" Toivonen starting Saturday at home?)


D.J. Dwayne King will be spinning the hits up in Minnesota, probably hunting Boogards.


Leaving the blog unattended during a road game must feel like leaving the kids alone at home for the first time. "Don't stay up to late, there's some dinner in the fridge, don't fight with your sister and don't catch the house on fire."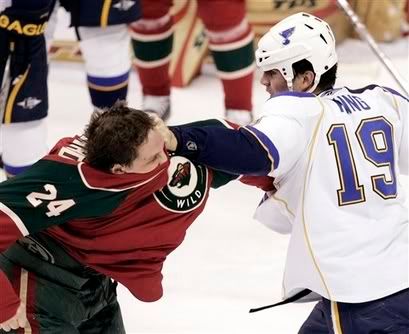 Â