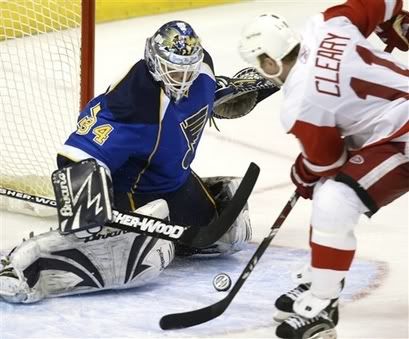 By Brad Lee
Busy night here in St. Louis. The Rams (an American football team for our reader(s) in Sweden) play at home tonight in a rare Thursday night game. At halftime, future Hall of Famer Marshall Faulk will have his name added to the ring of fame. And then the Rams will probably fold in the second half like normal and give the Pittsburgh Steelers an important win. Down the street, the Blues at the same time host the Detroit Red Wings.
As Yahoo! points out, the Blues will try to avoid their longest losing streak in the history of the team...under Andy Murray. In case you haven't noticed, Detroit is by far the best team in the league. Here's a snippet of what we wrote on the cover of tonight's Game Time:

Detroit

enters the game tonight first overall in the NHL with 53 points, the only team in the Western Conference with 50 points or more. The Red Wings have 25 wins, the only Western Conference team with 20 or more wins. They've won 10 of their last 11 games and three in a row. The Wings have been so efficient, they've converted almost 78 percent of their possible points on the season. They haven't failed to notch a point in a game since Nov. 22. That's almost an entire month.
Damn. I'm getting depressed just reading that again. So the Blues will be looking for another Festivus miracle tonight. We'll post a link to any other interesting things as they come up. Personally, I will be at the football game listening to the hockey game on the radio. Feel free to blast me in the comments for not trying to sell my ticket to a Steelers fan because it's fun to watch Steven Jackson whine in the media about people rooting for the other team. Your thoughts leading up to the game and from the game are also encouraged in the comments.