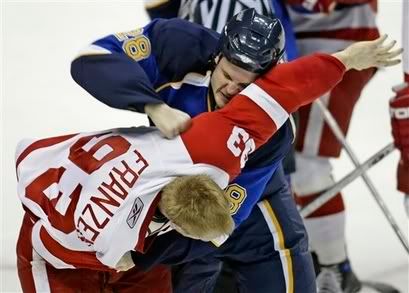 By Brad Lee
According to Jeremy Rutherford of the Post-Dispatch, Blues defenseman Barret Jackman has beene placed on injured resereve and rookie defenseman Steve Wagner has been recalled from Peoria.
In case you turned the game off early or spent time in the concourse drinking beer and talking with other Game Time writers/degenerates because you couldn't stand watching such a shitty performance one minute longer, the Wings' Johan Franzen checked Jackman from behind sending him into the boards face first. After getting the Kris Draper treatment, Jackman was slow to get up and had to be helped off the ice. He didn't return.
Franzen earned a legit pounding from Matt Walker who landed a couple overhand punches as Franzen began turtling on the ice. Franzen did not earn a penalty on the hit. Coach Andy Murray didn't agree. In his postgame press conference, Murray said, "Clearly a hit from behind.
"We got a player hurt and that's the concern for me, and that's what the league is supposed to be correcting."
It should be interesting to see what the lineup is for Friday night. You don't recall a rookie from the AHL to sit him in the press box. Backman seemed excessively soft in the part of the game I could stomach to watch. And we'll mention it again before it becomes a major part of the comments: Eric Brewer still has not been forced to pay the press box pennance after making mistakes on the ice.
As far as the forwards go, I'm wondering how much of a penalty David Perron has to pay for being late for the morning skate because of a missed flight home after Christmas. Obviously, they need his skill with the puck up front.