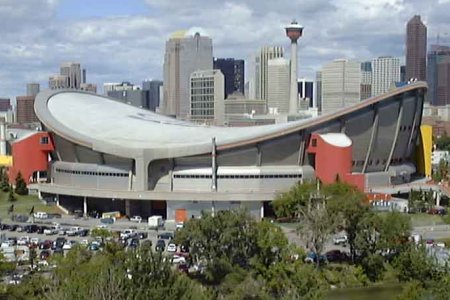 By Brad Lee
We're here. Live blog is getting rolling. We have the Center Ice package (thanks, fake boss) and we'll be giving you insight into the game as you listen on KMOX or something.
Listening to Canadian announcers can be fun. Plus they have neat mustaches.
The game will be starting shortly. We don't have a whole lot of pregame thoughts. Perron and the youngest Johnson are spending time with Matt "I like press box nachos" Walker. Marty Rucinsky is still out with a boo boo on his hand. I think that about covers it. Come back for the drop of the puck, won't you?
AW HELL...
Manny Legace down with a leg injury. Hannu Toivonen in. They showed a clip of Emmanuel going down quickly during the pregame skate and then showed him on his knees with the trainer.
Now where did I leave that beer...
19:25 Lee Stempniak shoots and scores! Holy shit! That makes me feel a little better. Mayers was on his stomach and swatted the puck from one side of the net to the other and Stempniak came streaking in and HAMMERED the puck home past Kipper. That's three in three games.
Mike Keenan just had an aneurysm we think. Â
18:25 The Rogers Sportsnet West announcers are making excuses for Kipper. "Stempniak put it in off the post when the defence (obviously Canadian spelling) left him uncovered and he put it in off the post. He's only human." So was Patrick Roy.

sharpelbows Says:
December 4th, 2007 at 8:12 pm e
Way to go Lee!! Good stuff for the Bluenotes and my fantasy. Always fun when you get the double bonus.
Something tells me if you have No. 12 on your fantasy team, you're probably not in first place. Just saying. Some six year old savant is leading my league.
15:22 The Flames have a guy on a plastic-sounding horn trying to fire up the crowd. Unoriginal bastards. I bet they have a guy who waves a hanky or something after goals too.
Shots are 4-0 right now. Sweet. Keenan could perform a human sacrifice during the intermission.
14:12 D.J. Dwayne with a shot from the blue line...on net. He thinks he's a goddamn sniper. You tell him differently. I've seen the scars on his knuckles.
11:00 Not a lot of good flow going. Calgary skates down, loses the puck, the Blues go the other way. They skate down, lose the puck. Repeat.
I think Calgary just got a shot on net. Excelsior! Check that. Shots still 8-0. My bad.
9:38 "Not much flow to this game so far," one Canadian guy said to the other. Agree 100 percent.
7:00 Stempniak had another great chance between the circles. He's really feeling it. And plus he's got that playmaker Mayers as Gallagher mentioned. Who woulda thunk it.
5:50 The Flames are getting a power play. And as the Flamers put the puck in front, there was a nice little battle for the puck and Toivonen did a nice job of making the save and keeping the rebound close. And then Jackman got into it with a couple Flames.
Calgary is much worse than I thought they were. Keenan has worked his magic again.

gallagher Says:
December 4th, 2007 at 8:34 pm e
The Flames are clearly looking to run the goalie tonight. It's just a matter of time.
Ok, here's a hopefully pointless question. If Tofu goes down, who plays goal?
Wait, don't answer that.
3:52 Keenan is a mastermind. He knows how to turn an interesting, dare I say exciting hockey team and make them the most boring, lifeless unentertaining team you'll ever not want to watch. The Flames look like they're playing a scrimmage. Good thing he's not the GM too. He'd run Kipper and Iginla out of town.0:15 Mike Johnson and Keith Kachook are playing well. And now there's much pushing and face washing going on with McKee and Jackman along with some Flamers, including Iginla. Somehow Calgary has gotten at least five shots on net. Lucky bastards.
I'm waiting for the announcers to mention Adam Creighton or Brian Noonan being new Flames.
0:02 D.J. the sniper gets the shot off from the faceoff, backhanded even. Kipper made a nice save. Crazy.
We'll have a new thread up shortly.