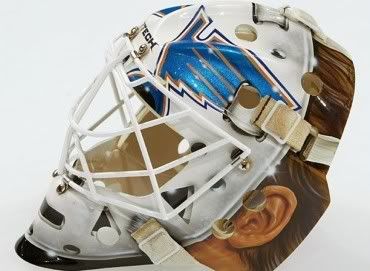 By Brad Lee
As you can see, Toivonen has ears on his mask. It's nice, really, an hommage to an earlier time. And he and a man we call Boyes are the only reason the Blues are still in this game.
Since we're just sitting around waiting for the interemission, let me explain where the ears photo came from. Of all outlets, USAToday.com had a feature on goalie masks and what players put on them. They had galleries for almost every mask in the Eastern and Western conferences. But it was in a flash player link. So I had to do a screen capture, crop and upload. Sometimes, Google image search doesn't give you what you're looking for. And I know, that wasn't that complicated, I was just trying to show the effort we put out for you, our valued, loyal, no life on a Friday night like us reader.
Shots were 14-6 but the Blues won 12 of 18 faceoffs. We'll be back shortly.
18:58 If they hadn't called holding the stick on the goalie, I would have started to believe the conspiracy theory. Boyes ended up dragging Garon out of the crease while he was holding the stick. Federko said he'd never seen anything like that before. I think he's lying.
18:42 Why is Jamal Mayers on the power play? I'm going to punch myself in the face now.
17:47 Was really hoping Jackman would pound home the long rebound. He didn't get a lot on the shot and seemed off balance. It was almost as if he's not comfortable shooting the puck.
17:10 EJ almost, ALMOST hit on a pass from near his own neet to the opposite blue line. It bounced over his stick. Penalty over and we won't mention that EJ was a little slow getting back on a shorthanded chance right before that long pass. Dare I say, that was Prongeresque?
14:20 Another penalty on the Blues after the No. 1 line with Penner, Horcoff and Hemsky held the puck in for about an hour. It's Brewer. And I'll save the commenters the trouble: why doesn't he get benched when he makes mistakes? We don't know either.
13:38 Somehow the Oilers didn't score with Tofu down and McKee on his knees in the crease playing goalie.
10:19 Blues suddenly dictating the pace of play and getting multiple chances. I don't know how to describe that.
8:29 They just played the song "Lump" from Presidents of the United States Of America, circa 1996. Sweet, and probably one of the last songs I would expect them to play in a rink in Canada. They must have worn out their Bare Naked Ladies discs already.
7:55 Don't know if you caught this, but they were talking about a hockey tournament held at the West Edmonton Mall. "The second biggest mall in America, next to the one in Minneapolis." That just doesn't sound right. Oh I know, BECAUSE EDMONTON ISN'T IN AMERICA. Fuck.
5:18 Blues on the power play for some reason. I was thinking about Nickelback for some reason. And Erik Johnson just hit the post. Dangit.
We're in the middle of little girl bed time. Feel free to keep talking. We'll be back in the third.