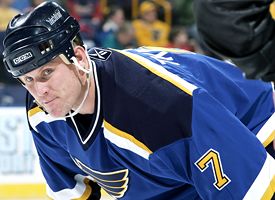 By Brad Lee
The following is a pretty faithful transcript of Keith Tkachuk's interview on The Morning Grind radio program Tuesday, Feb. 13 on 590 AM KFNS here in St. Louis. Big Walt was a weekly guest on the show a year ago and has appeared infrequently as of late. In fact he had not spoken with new co-host Bob Fescoe until this morning, and Fescoe has been on the air since mid January.
The interview started with Tkachuk talking about driving in the rain before a winter storm hit St. Louis. His kids got a snow day even though no snow had fallen by the time he went on the air at 8 a.m. (It did end up snowing a lot)
Tim McKernan: Walter, you're the hot topic in St. Louis sports. The headline says you think it's inevitable that you're going to get traded. How accurate is that headline?
Keith Tkachuk: I think people have to know that we're in a situation where we're a lot of points out. I think we can still gain some ground, but what people don't understand is that I'm at the end of my contract. I wouldn't be surprised if the St. Louis Blues come to me and try to get something for me. I totally understand. It's not like I want to go anywhere, but I want to win, and I want to win now. This is the business side of it and they'll probably be coming to me.
TM: Why is it different this year. Last year you said you had the no trade clause and you weren't waiving it. What's different?
KT: I think last year was just difficult for us. I wasn't happy with my performance and I had an option and that was a big part of it. I didn't want to get traded somewhere and have them pick up my option to stay there. I love it here. I don't want to leave, but hopefully a playoff run somewhere might work out and win a Stanley Cup and then hopefully come back here. My family loves it here and I love it here. The people have been great to me and I love it in St. Louis.
TM: How much of what your friend Doug Weight experienced last year getting traded, winning a cup in Carolina and coming back plays in your mind right now?
KT: It's a difficult situation. I know it was a difficult decision for Doug to leave. I know they had a deal for him and he had to decide if he wanted to go and it worked out. The only problem was he was away from his family for a long time, but he won the Cup and he signed back here. There's no guarantee that things will work out back here this summer. I'm 34 and I want to win. We missed the playoffs last year. I think we're good enough to make the playoffs this year, but with the trading deadline moved up this year, they've got to make up their mind sooner and I don't blame them. They can probably get some prospects or draft picks for myself and Bill Guerin. I understand that and I want to do what's best for the franchise.
TM: Would you want to do what Doug Weight did, make a run hopefully at a cup and then come back to St. Louis?
KT: Absolutely. That's a great situation. I would love to do that, but if things don't work out this summer, then hey, I'd like to play a few more years and if that's the case and I have to play somewhere else, I will, but St. Louis will be my home no matter what happens down the road.
Bob Fescoe: Have you talked to management telling them you'll approve a trade and want to re-sign in the summer?
KT: No. It has not happened. They can't guarantee anything. I still have the no trade, so it's still my final decision if I want to go to a particular place or not. They can't guarantee anything four months down the road. So I'm going to play hard, hopefully win some games and get closer to Minnesota or Vancouver for that final playoff spot. If something happens, I have to talk about it with my wife and see if we want to go or not.
BF: Is it safe to assume you will only go to a contender? You won't approve a trade to an eighth-place team, right?
KT: We just have to see what happens. It will probably have to be a quick decision. I do want to help out and do what's best for the franchise. I think JD and Larry have done a great job. I love playing for coach Murray. This organization has a bright future, if I can help them out, I will.
TM: Yesterday we had Manny Legace on the air. He said, when we won the cup in Detroit, it was with a nucleus built over four years. He doesn't want to see you guys go and this nudleus could have some success a few years down the road. What do you think?
KT: That's nice. People don't realize what happens behind the scenes in the locker room and we have an exceptional locker room, probably the best I've been around in years. You have to have thick skin to be in our locker room, I'll tell you that much. Everybody is very comfortable with each other. We've got some great players, some great younger players. Manny is playing unbelievable in net. We're playing great defense. Obviously in a perfect world, we'd keep everyone together. Things change every year. They're in a situation to get some players in exchange for players going to playoff contenders. I wish they would keep us all together. That's the perfect world, but unfortunately that's not realistic.
BF: Was the locker room like that before Andy Murray, or did he change that?
KT: He has changed a lot. Everybody feels like they're an important piece of the puzzle and that's what you need. We've got some great guys, but management has done a good job doing their homework and they've brought a lot of good guys in here.
TM: Are guys talking about the trade deadline in the dressing room?
KT: Oh yeah. It's that time of year where everybody talks about trades. That's how it goes.
TM: We'd like to see you stay, but we want to see you raise the cup. I wish we could see you do that down at ScottTrade.
KT: Me too, this is such a great place to play.
They talked briefly about the Boston Red Sox before ending the interview.