By Brian Weidler
While the majority of solid NHL prospects join their organizations through the NHL Entry Draft, there are an increasing number of players who fall through the cracks of the drafting system and enter the prospect ranks as free agent signings. These players start at a lower level, usually the ECHL, and earn contracts with AHL clubs, where they can catch the eye of the parent NHL organizations.Mike Glumac is one such player who followed this route to a contract with the Blues. The Niagara Falls, Ontario native followed up a successful four-year career at Miami (Ohio) University with 37 goals and 69 points as a first-year pro with the now-defunct Pee Dee (Florence, SC) Pride of the ECHL. Â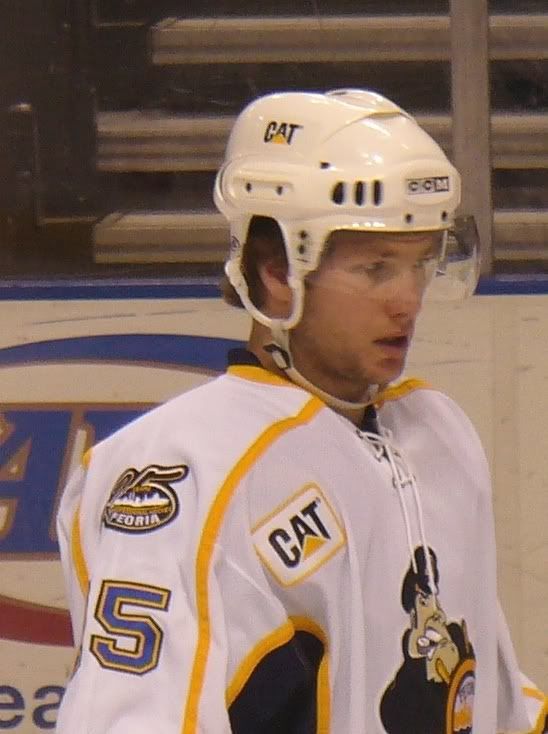 That performance -- along with NHL size at 6'2, 205 -- got Glumac a look from the Worcester Ice Cats, and he made the most of it with 28 goals to lead the IceCats in goal scoring, and rank second among all AHL rookies in goal production.

Â

Add to that a plus-14 mark on the season, also a team high, and 206 shots on goal to lead all rookies in that category, and it's no wonder the Blues signed him to an NHL contract that summer.

Â
Â
Glumac has had a cup of coffee in the NHL with the Blues, and is looking to get back to that level through his leadership and solid play in
Peoria this season.

Â

Game Time caught up with Glumac before a recent game, and here's what one of the Blues' most NHL-ready prospects had to say about college, the minors, and his NHL aspirations.
Â
Game Time: You've had a chance to play at the Division 1 level in college and at all three pro levels in your career; tell me about the support at each level. What does the organization do for the players at the ECHL level that maybe they didn't do in college -- besides pay you, of course? What do they do in the AHL that's different from the ECHL, and then what's it like at the top, in the NHL?
Glumac: Obviously, at the NHL, it's a big difference. Everything's A-1, from the top of the organization on down, and they treat you unbelievably. I didn't really look into the aspects of the organization as much as the game, how much faster it is as you climb up through each level. The game just seems to be happening a little faster, and it takes a little time to get your speed up to it, get used to it, and get yourself playing at that level. Â
Game Time: Contrast your role here in Peoria with the role you've been asked to play in the NHL. Down here, the coaches look to you to provide offense and leadership; have the coaches in St. Louis had similar expectations of you?
Glumac: Obviously, with the number of great offensive players they have up there, you know you have to change your role a bit to kind of adapt. When you're up there, I don't think your game really changes; you have to play the same way that you do down here. Hopefully I can also chip in with a goal or two here and there. But they have their big guns up there that they can rely on, so you just have to adapt when you go up there and just play the role they want you to play.
Game Time: Coach Baseggio has called you one of his "heart and soul" players. Is that something you take pride in, being one of the guys that essentially defines the character of the entire team?
Glumac: Oh, definitely. We talked at the beginning of the year, and I know the way he wants me to play. He wants me to play hard every day, and playing that way is only going to make me a better player. I think that with me playing that way, it helps the team to win, too. So I know that's something I have to concentrate on, to just go out and play hard every night.
Game Time: Let's talk about your college days. After going 11-20-5 in your freshman year under one coach (Mark Mazzoleni), the Redhawks were 45-58-7 in your last three years under Enrico Blasi, who has built Miami into a pretty good hockey school since then. Is there anything you learned from Coach Blasi that you still carry with you today? Glumac: I talked to him this summer, when I want up there for a golf tournament. It's amazing what he's done there, since he was a young guy first coming in. It's great to see the team doing well, and there are a lot of college guys here, so you get to kind of compare what's going on with your alma mater. It' awesome to see the hard work that he's put into that program; they've built it into a national contender, and with their new rink there, they're going to be recruiting guys left and right. So it'll be good to see in the next few years how they do.Â
Game Time: The Miami web site says about Coach Blasi that he has turned the Miami program and everybody involved in it into, basically, one big family. Was that the atmosphere when you were there?
Glumac: I think he knew he had to turn the program around, and that's what he's done. When he came in, I think he was 28 years old, so he was just a little older than the guys that are playing for him. So yeah, it is kind of like a family atmosphere there, and Miami's kind of a small school, so everyone kind of knows your business and you have to look out for each other. But it's an unbelievable place to be; it was the best four years of my life, I loved it and I'm really happy to see them doing well.
Game Time: As a first-year pro in 2002-03, you were a point-per-game player and a thirty-goal scorer in the ECHL. Talk us through that first year; how much of an adjustment was there for you, going from college to that level? Even back then, the ECHL was kind of spread out, with a lot of long-distance travel that you probably didn't get in college.
Glumac: Well, the good thing was that, where I was in Pee Dee, it was pretty centralized in our division, so we didn't really have any long bus trips. I had a great time there; it was different, it was kind of a small town. We had a great coach there, Davis Payne, who's actually in Alaska now, and he helped me a lot, and taught me a lot about the pro style of game. And he helped me become a better player, I think. It was a great learning experience, definitely.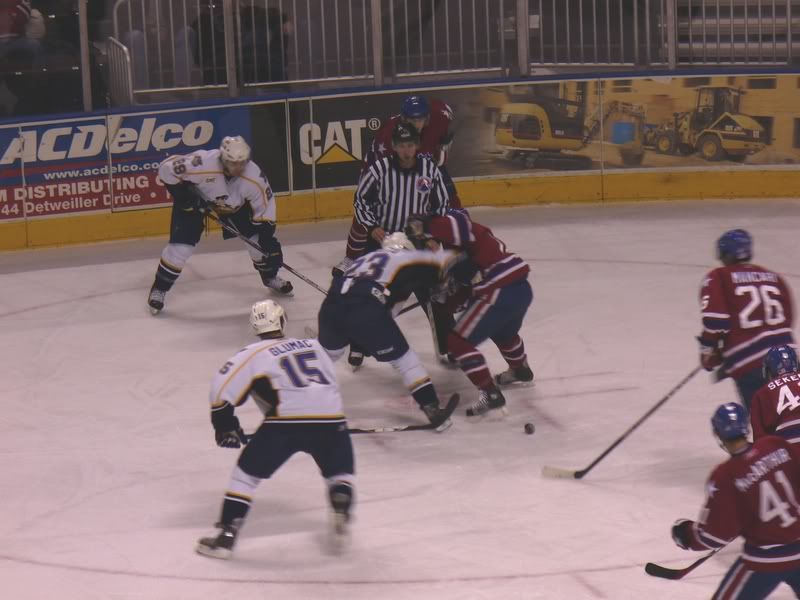 Game Time: You scored more goals that first year in Pee Dee (37) than in your four years at Miami (34). Did it dawn on you then that you could be a force to be reckoned with on offense, or had that always been something you felt you could do, and perhaps weren't asked to play that role at Miami?

Glumac: It did seem like, in Miami, that our top scorers weren't really scoring that much, and I don't know if it was because we played a more defensive style or what. It just happened that, the year in Pee Dee, stuff started going in for me, which is always nice. When you're shooting the puck and stuff's going in, it's a great feeling. So it was definitely a change from (my time at) Miami.Â

Next time in Tomorrow's Blues, we'll finish our talk with Glumac, and discuss the injury that kept him out of half the 2004-05 season, as well as his first NHL goal. Until then, remember... "if we do not prepare for ourselves the role of the hammer, there will be nothing left but that of the anvil." Auf wiedersehen.