By Sean Gallagher
For a team that has 40 years of history, zero Stanley Cups and is just one year removed from the worst season of their entire existance, these are truly defining days.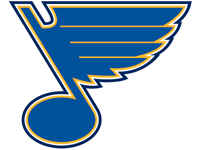 Today the Blues have signed a goalie in Manny Legace who they expect to be a game stealer for two years. During those two years he will be expected to hold down the fort as well as help mentor a stable of four goalies who could become future franchise game stealers if they meet expectations (Marek Schwarz) or overachieve (Ben Bishop,
Jason Bacashihua
, Chris Beckford-Tseu) on their journeys towards the NHL.
Likewise, they signed Eric Brewer to a four year deal worth $17 million dollars on the same day that they locked up Manny Legace. Brewer, the main return from the unnecessary Chris Pronger-to-Edmonton trade, resurrected his career in the last three months since the Blues hired Andy Murray. Before that, Brewer was a shell of the young blueliner who played stiff defense, solid offensively and had already won Olympic Gold. These days, he looks a lot more like Edmonton Eric than "I hate
Mike Kitchen
" Brewer.
He'll be expected (at $4 million a year and a No Trade Clause) to be a true top pairing defenseman who gobbles up minutes not being gobbled by $4 million man Jay McKee. If he's finally escaped the pressure of being "The guy we got for Pronger", I hope he's ready for the pressure of being "the guy who's getting paid more than everyone else on the team".
These are defining moves for a team that is in transition. They are locking up the presumed goaltending and defense for the near future. These are the players they expect to lead the team back to the playoffs and, eventually, a Stanley Cup.
The new owners have gambled and won in their first year. Bill Guerin paid off big time as he resurrected his career in the Gateway City. Same for Manny Legace, who was run out of Detroit on a rail for not getting the team out of the first round of the playoffs, even though the team lost four games by a grand total of four goals.
The gamble they are playing right now is who to sign and who to trade.
They've played their cards on who to sign and not let test the market: the goalie in his prime and the defenseman just entering his.

Next up: the river card. With Keith Tkachuk and Bill Guerin on the the market and the deadline less than three days away, Blues president John Davidson is holding cards close and trying not to look nervous. If he can get the other guy to blink first, he'll get what he wants: a 1st round pick and a top prospect for each of the two players he's offering.
I don't want to overstate it, but this is a giant weekend for the Blues franchise. To maximize the return on Tkachuk and Guerin (both of whom could return to the team this summer as they pull Weights and get to come back to the city they have homes in and their young kids are in school in) while also gambling on Legace and Brewer to become what we hope they can become, means that the team could take a huge step forward towards the stated goal of the new owners: Win the Stanley Cup.
Lee "Dutchie" Stempniak. David Backes. Jay McClement.  Dennis Wideman. Jeff Woywitka. T. J. Oshie. Erik Johnson. Patrik Berglund. Roman Pola'k. Scott Jackson. Jason Bacashihua. Marek Schwarz. Ben Bishop. A 1st round pick this June.
This is our future.
Another 1st round pick in June? A third 1st round pick in June? A top-flight prospect? Another one on top of that?
Can we add this?
The return of Bill Guerin? The return of Keith Tkachuk?
Is this feasable? Is it worthwhile?
The next few days could set the stage for the new owners of the Blues to take them from their worst season ever to their best season ever.
Let's hope they don't blink.