By Sean Gallagher
Avoiding a discussion of how the Blues as a team fell short this year (I'm trying to give Mike Kitchen a bashing-free week for once)...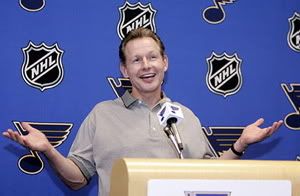 "Hey, whadday want from me?"
...maybe a better way to grade the team and their performance is by country.Â
The current Blues team is a mixture of five Americans (and two departed Yanks who made valuable contributions this year in Keith Tkachuk and Bill Guerin), five Czechs, two Slovaks (oh, where have you gone, simple days of Czecheslovakia?), one Finn, one Swede and about 700 Canadians. Fine, the actual number is 16. Although I've left Jaime Rivers on the list despite his relegation to the AHL after just 31 games played, mainly because he seems like a good guy who should probably be in the NHL if not for the Blues' current youth movement. Plus he's apparently covered in tattoos, raising the Canadian team's coolness factor by a power of 2.
If we were to liken the performance of these players to an Olympic event, here's how the boys in Blue would fall out.
Disqualified in preliminaries: Finland. Newcomer Ville Nieminen hasn't had enough time to make an impact and the Blues won't be playing any playoff series, which is where he really excels at getting under the skin of opponents and getting them off their game, so he can only hope to improve his country's standing next year.
I would have liked to seed Nieminen higher, if only because he gave us a great "Separated at Birth" this year, but, as they say, Obla Dee Obla Dah, Live Goes On, Blah Blah Blah Blah Blah Blah.
       Â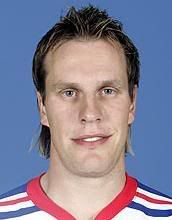 Â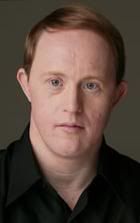 Failed To Qualify Due To Lack Of Participation: Slovakia. Peter Sejna likely would have loved to get more time in a Bluenote this year, but the 15 games he has appeared in have done nothing to make Blues fans forget that his greatest days as a Blue actually consist of one great shift as a Blue. Unfortunately for Sejna, he scored a goal against Patrick Roy in his very first NHL game, setting up fans for years and years of disappointment.
Fortunately for Sejna, his 15 games and two points totally destroy the numbers of countryman Vladimir Orszagh, who has "earned" $875,000 this season for signing autographs between periods at every home game this year.
Between the injured Orszagh and the unimpressive Sejna, the Slovakian contingent has proven itself to be no Czech Republic for the Blues. And that is saying something, althought it's not saying something positive.
Tin Medal: Czech Republic. "Tin?", you say. Tin, I say. There is a fourth place in the Olympics, but no fourth place medal. It is the only position in Olympic hockey where the team has to play a final game and gets nothing to show for it if they lose. If you lose the gold medal game, at least you get the silver medal. Fourth place should get something, even if it is a banged up, rusty tin medal.
With a five-to-one advantage over Sweden, one would think that the Czechs would destroy the lone remaining Scandanavian in the season-long contest, but the quality of the Czechs' play, while not entirely their fault, was lacking this year.
Martin Rucinsky, for one, proved that he only has huge statistical seasons when playing with Jaromir Jagr. Unfortunately for Rucinsky, Jagr was not wearing a Bluenote this season, and Marty has but 12 goals and 21 assists as of St. Patrick's Day. In a related note, Jagr's numbers have also dipped significantly this year, as he's 20 points off his pace of last season.
Petr Cajanek was asked to play a role he was not prepared to play as the top line center. Not his fault, I admit, but we've all come to find what we knew before: Cajanek is to pressure as wax is to flame.
Since the trade deadline, when Cajanek passed through waivers with no takers, he has been very good for the Blues. If only they'd waived him at the start of the season.
Blues fans have been very happy with Radek Dvorak this season, but that's what lowered expectations will get you. Dvorak has but nine goals and 33 points, but his minus-11 is more reminiscent of the season he has enjoyed out on the perimeter of the offensive zone all year.
Marek Schwarz and Roman Pola'k are a pair of youngsters who promise to get the Czechs into the medals in future years of St. Louis Olympics, but their contributions this year were too minor to count against the three floaters who took up too many minutes and too many dollars (Cajanek, Rucinsky and Dvorak were paid a combined $4,450,000) this season.
Bronze Medal: Sweden. Christian Backman could easily wind up as the odd man out on the blueline this summer, but the former Blues first rounder has had a quietly solid season. Not as offensive as expected, Backman has but six goals and 16 points this season, but the impressive part of his game sits one column to the east of his point totals. Backman's plus-16 leads the team and is five points ahead of the next-closest player, American Doug Weight.
Backman is probably better-respected by the other 29 teams than by his own, which points to a possible trade, as he could return more than Blues fans would expect if he were traded.
The Gold Medal Game: Canada vs. United States. The trade deadline tipped the scales wildly in this match, as the Canadian team added grinder Glen Metropolit and playmaking future top center Brad Boyes while the Americans lost their top two scorers in Keith Tkachuk and Bill Guerin.
Luckily for the Americans, this particular tournament counts all year, not just the current rosters, so Guerin and Tkachuk's American presence gives the US a chance.
The Canadians are led, strangely, from the back, as their most prominent names are all blueliners. Eric Brewer was reborn when Mike Kitchen was handed a cardboard box to carry his shit in, and has become a true force for the defense.
Barret Jackman, who had trouble adjusting to the new rules of the NHL, has finally figured out how to play in the new era and is once again a tough defender to play against. His Canadian roots come through in his hard nosed, take no quarter attitude on the ice.
Jay McKee had the opportunity to really close out these Olympics by being the crushing defensive force he was for Buffalo, but his continuing injuries have led him to suit up in just 23 games this season, meaning he didn't help the canucks much in this season-long contest.
The next tier of Canadian skaters are the players of the serviceable category like Bryce Salvador, Jaime Rivers, Dallas Drake, Ryan Johnson and Jay McClement. All players have played pretty well, but there isn't an offensive guy in the bunch, meaning the Canadian team is severly lacking in that category.
Brad Boyes adds a scoring punch to the lineup, but he has been with the Blues only eight games, so his contributions will be weighted less than those of partial season vets like Tkachuk and Guerin (61 games each for the Blues).
In net, the Canadians are represented by Manny Legace, who after a slow beginning to the season was kick-started by a slapshot during practice that knocked him into another week. When he returned from the injury he was a house afire, and his outstanding play helped the Blues change their season for the better.
On the other hand, the Canadians also have brittle Curtis Sanford in net, and that is a shaky proposition, at best. Lamont may never be a goalie that steals a lot of games for the Blues, but he seems to be a good goalie who will always battle to remain healthy through and entire NHL season.
The American contingent of the Blues is all about offense. Lee Stempniak has 23 goals as of this writing. Doug Weight leads the team with 39 assists and 50 points. Since-traded Americans Keith Tkachuk (20 goals in the Note) and Bill Guerin (28 goals) led the team until they were moved at the deadline. Rookie David Backes has nine goals in 38 games, but most of them have come in the last few weeks, indicating he'll be even more dangerous as his career goes on.
The Blues have no blueliners in their ranks and their goaltending is a bit unproven in Jason Bacashihua. In a head-to-head against the Canadian contingent, it would quickly turn into strength versus strength: the Canadian guys' defense and goaltending against the American guys' offense.
What better way to decide than to make this game completely subjective? I happen to like the American line of Stempniak-Weight-Backes against the Canadians' Mayers-McClement-Boyes. In a one-game championship like the Olympics, a confident kid like Bacashihua could get a win over the more accomplished veteran Legace.
Plus, I also happen to like offense over defense. And I happen to be an American.
After much subjective deliberation, the St. Louis Olympics are won by the Americans in a tough match against the Blues' Canadians.
If only that was as big a deal as in 1980.