By Sean Gallagher
I'm not a fan of college hockey. More accurately, I've never been a fan of college hockey simply because I was never exposed to it. My school, Mizzou, had a club program, but they also had a club lacrosse team and some sort of club bowling team, and I never saw those teams play, either. I spent more of my team with the club Natty Light team, which was the
biggest club on campus, as I remember it. Hell, even former Iowa State basketball coach Larry Eustachy belonged to that one:
Now, with 776 channels at home, I somehow don't have the FSN/NCAA type package that shows all the college hockey games like a few people I know. To be honest, even if I did have that package, I spend so much of my free time watching random Florida v. Boston games and the like on the CenterIce package, I probably wouldn't see much college hockey anyway.
So I was in a weird position come this last Thursday when I skipped out of work early to head on down to "The Scotty" (as Brad Lee called it) to see the Frozen Four. I was about to see my first three games of college hockey ever, and they should have been the very top of the line teams with their players playing the most important games of their young lives.
I came away with a healthy respect for the rabid fans of these teams, impressed with the passion of the players and an appreciation for the NHL players we watch all year.
Starting with that last point first, I was very surprised with the skill level. I don't want this to sound negative, because any one of the players that played in this tournament is a million times better than I've ever been, but I was surprised that even at this championship level the teams had a hard time doing some of the things we simply expect from professional players.
Breakouts. Setting up the powerplay. Holding the blueline in the offensive zone. These are so well-executed in the NHL that we barely notice them. In the college game, they are all a crapshoot. I couldn't understand how someone could be good enough at hockey to play on a D-I team on a high-caliber program and seriously be looking at playing his last truly competetive level game this weekend. I'd never seen them play before, but they must ALL have options to play some level of pro hockey, right? Now I know why not.
Again, not an indictment of the quality of these players, but more of a compliment to the NHL. As I mentioned to Brad at the game, "Jamal Mayers would be a monster at this level." Jamal is a great team player, but no NHL star. Playing in this tournament, however, Mayers would be too fast, too big, too hard-hitting and get too many hard shots actually on net for these guys to deal with.
But I saw some great hockey. The Maine-Michigan State game was interesting, as I got to see MSU bust out the unprecedented "four guys on the blueline" defense once they had a lead. The Spartans, who I had no respect for going off the tiny bit of college hockey info I had, won that game by doing two things well:
1. Skating hard.
2. Winning puck battles.
They never gave up, to a man, on getting to the puck first, tying up their man, clearing their zone. Not the most entertaining hockey to watch, but the Spartans ground down the Black Bears of Maine and I was impressed. No great NHLers on that roster, but plenty of great NHL third and fourth liners who will be great role players for their teams.
Personally, I thought Maine and Blues goalie prospect Ben Bishop would win this one. It wouldn't be the first game I was wrong about.
The second game Thursday was the one I was really excited to see, and I wasn't alone. There were way more North Dakota fans in St. Louis than any other team, and by a long shot. Personally, I was looking forward to my first glimpse of Blues prospect T.J. Oshie in action. The Sioux fans? They were looking forward to watching, as one fan called it, "the only team in North Dakota" play themselves into a national championship game. They were also out in force, and their section of the rink was packed with green-clad maniacs who stood up for most of the game.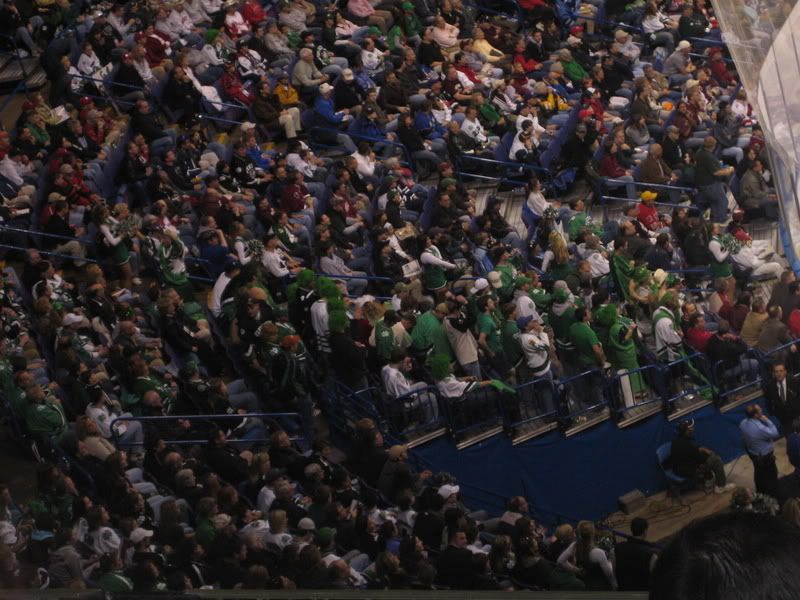 Going into the game, here's what I knew about UND's Fighting Sioux hockey team before the game:
1. T.J. Oshie, Blackhawks prospect Jonathan Toews and Hobey Baker winner Ryan Duncan were supposed to be the best line in all of college hockey.
2. That best line in college hockey was all the Sioux had going for them as the rest of the lineup was a little undermanned.
What I came out of the game with was quite different:
For one, I'm really excited about seeing T.J. Oshie in a Bluenote. He dominated during the game, scoring a sweet goal that started with a turnover behind the net and finished by hitting the waterbottle to close the gap to one.
Secondly, that conventional wisdom about the Sioux relying on one line was dead-on. Oshie and Toews were on the ice constantly and in every situation, even the PK, which surprised me. Usually a one-line team will not play those top offensive guys on the PK. Maybe that's a mistake that hurt UND.
Third: this was a fantastic game and the one that was played closest to the NHL level of any of the three. Speed, goaltending and amazingly slick playmaking. The championship game was fun because of the atmosphere and the close score, but for my money, this game was the most entertaining by far.
Fourth: Holy crap! These guys love hockey so much they have their cheerleaders get on skates!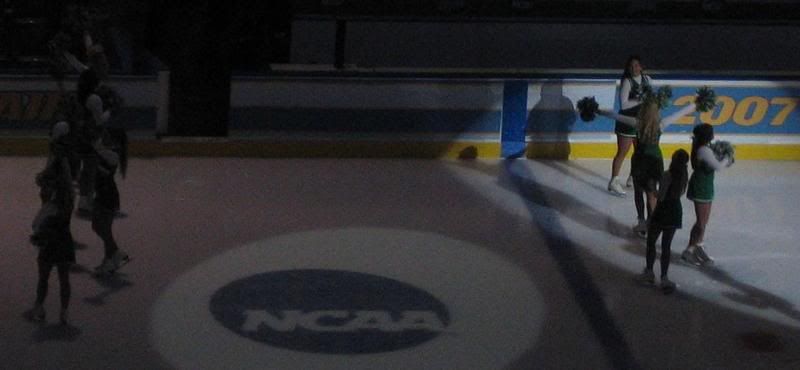 By the way, I finished the day oh-fer-two as I really thought UND would win the game against a BC team that looked excited but a little less talented that the Fightin' Sioux.
As Brad mentioned to a Spartan fan sitting right by us, MSU fans must have been pulling for BC to win as it'd give their team the best chance to win. The guy denied that, but he was clearly excited when the Eagles took the lead in the game. Fans always say that they want their team to "beat the best" on their way to the championship, but let's be honest: if your team is in the championship game, you want to win. The best way to win is by playing a less-talented team. The Spartans got their wish on that one, whether they'll admit it or not.
So Thursday's Semifinal games were very eye-opening for me. I learned a lot about how the college game was played and whatnot, but I was really blown away by the fans, and not just the fans of the teams who were there. I mean the fans of the whole sport. I saw hundreds of Minnesota jerseys and t-shirts and the Gophers had been eliminated from the tournament by the Sioux. I'll tell you one thing, if the Blues get eliminated from the playoffs by Detroit next year, I certainly won't be in San Jose to watch the Sharks try to knock off the Wings.
This guy on the right, especially. I tried to get a better pic of him, but he was moving too fast and talking way too much trash to catch. This guy was so amazing to me because he was wearing his Minnesota jersey while actively seeking out UND fans to talk trash to them, focusing on a "your team name sounds like a girl's name" motif.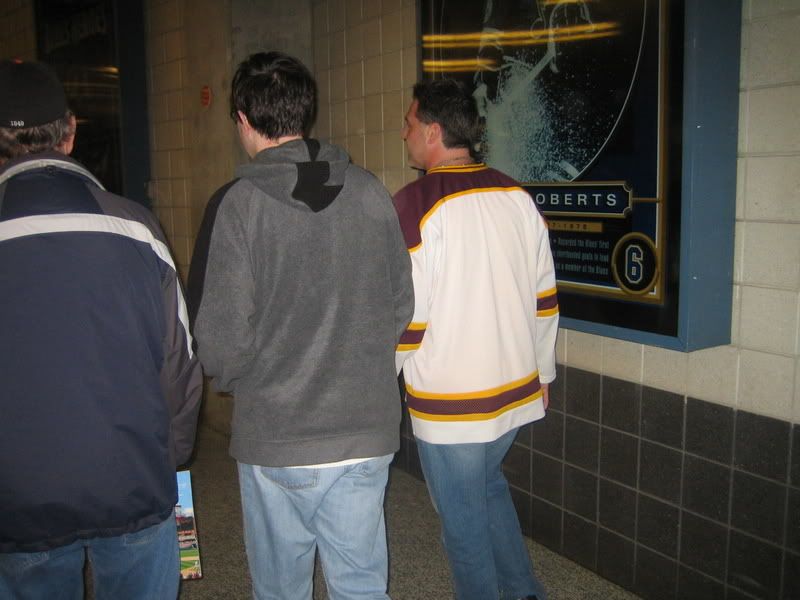 To expand on my example, not only would I not travel to the Bay Area to root for the Sharks to beat the Red Wings after the Wings had dispatched the Blues, I certainly would not start openly taunting Wing fans. I mean, isn't the easiest move ever for them to say, "isn't your team watching this game on TV?"
I guess being a college hockey fan is more of a lifestyle than I thought.
For those keeping score, I drove down to the big game on Saturday night with one oh-fer-two score on my college hockey predictions. Unfortunately for fans of the Screaming Eagles of Boston College, I'd been impressed with their performance on Thursday and thought they'd get the big win. I was also rooting for a kid I'd never heard of before named Brett Motherwell, who claims the same hometown as I do, and also got his interest in hockey when he went to a Blues game when he was 5 and, like many others in this area, became fascinated with one Brett Hull.
I brought the Son of GT to enjoy the atmosphere, counting on the fact that the staff at the Scotty would be willing to overlook the fake-sleeping six-year-old on my back and let me walk through the gates unabated. Thankfully, they were either to overwhelmed, too apathetic or too oblivious to the fact that he clearly isn't two any more and let him in. Unfortunately for me, he should have been free, because in a packed house he couldn't see over the fans in front of us, necessitating a seat on my lap the whole game. So I guess the "little kids get in free" rule actually worked to perfection - I'd have been pissed if I'd bought a ticket for him just to have him make my leg and ass numb all night.
Speaking of tickets, I feel bad for the "ticket reassignment specialists" who tried to work this tournament. Leading up to the Frozen Four, they couldn't wait for the fans pouring in from all over the States. It had been sold-out for over a year and plenty of fans were driving in from out of town. The worst thing that could have happened to them was the Sioux losing. I didn't check, but I'm sure that the tickets for the championship game were going for $30 or less if you knew what you were doing when talking to the scalpers.
The game was a really exciting match and both teams had plenty of reason to believe throughout. But in the end, I think the Eagles decided that they were going to overtime, while the Spartans planned on winning before that. The pressure they put on in the last 30 seconds of the game caught BC off-guard. The Spartans rang a hard shot off the post with 23 seconds left, then quickly gathered the rebound, fired in in front where it was banged in for the game-winner with just 18 seconds left. The eagles looked shocked at what had happened to them. What about OT? Why weren't we all playing to go to OT?
In the end, the Spartans proved that hard work can beat more talent, as MSU seemed to do exactly the same thing they did to Maine: win puck battles, outhustle their opponents and deny them the center of the ice in all three zones.
Watching them celebrate and toss their gear everywhere was fun as well, although, as the Son of GT noted, "their trophy is just a piece of wood". They probably could upgrade the NCAA championship plaque because it isn't too far removed from the one my rec league team won a couple years ago, but the look of the players as they jumped on each other and skated around with their hands on their heads in total shock made me think that maybe they don't care about what the actual trophy looks like.

And the picture that says it all: