By Answer Man
Â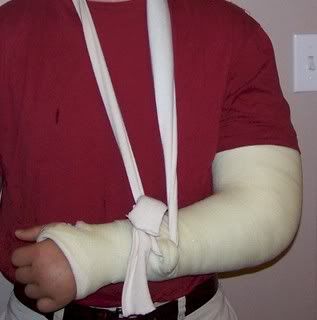 11. Don't approach me with your foolish story of when you have been hurt. Nine times out of 10 mine is worse and yours is VERY weak.
10. Luckily I'm used to typing with one hand and being on the internet.
9. I enjoy giving myself "The Stranger" from time to time. Well, this is a whole new level now.
8. I know there are Fruits in my Rec. League taking liberties with my guys. I warn you all right now, I'll make a list and catch up to you. Take that to the bank.
7. Having a busted arm has temporarily removed my ability to pleasure the Answer-ettes. Everyone suffers.
6. Having a broken arm drastically takes away my ability to Air Guitar.
5. My new t-shirt idea: "I went to Canada and all I got was this stupid broken arm".
4. Taking hockey away from me is like taking the "slap" away from the town's number one pimp.
3. If I don't clean my pits for a few days, things get "dicey".
2. With only one arm I'm still tougher then 99% of the Euros in the NHL.
1. If anyone sees Jamal Mayers at the gym, tell him I'll be back in July and he and I can hit the weights then.