by Brian Weidler, "Game Time" Prospect Columnist
A few brief notes on the Blues' Development Camp, currently taking place at St. Louis Mills.
1. Players that have been impressive in drills to date include T.J. Oshie, Patrik Berglund, Reto Berra, Michal Birner, Martin Kariya, Alexander Hellström, David Perron, and Jonas Junland.
2. Oshie in particular looks ready to make the jump, but all indications are still that he intends to honor his commitment to North Dakota and return for at least one more season, and one more kick at the can for a National Championship.
3. Per Jeremy Rutherford at the STL Today "Blues Talk" message board, Nikolai Lemtyugov was scheduled to attend the development Camp, but is having some visa issues. He is expected to be at training camp, and has signed a three-year entry-level contract, so look for him to be skating in Peoria this winter.
An interview with David Perron will be posted this weekend, as well as further and more in-depth analysis after the Prospect Game tonight (7:00 PM at the Mills). In the meantime, to whet your appetite for the Perron interview, here are some pictures of Perron from the Entry Draft.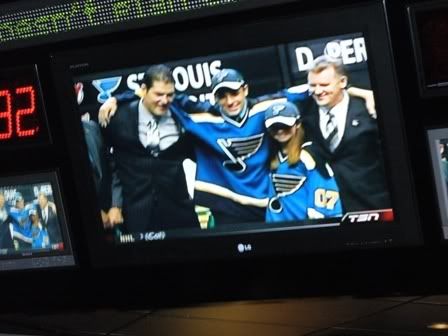 As always, remember... "if we do not prepare for ourselves the role of the hammer, there will be nothing left but that of the anvil." Auf wiedersehen.