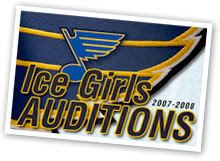 By Brad Lee
I'm a red-blooded guy like the majority of hockey fans (I can't remember the last female comment on this blog or the message board). That means I like hot chicks. But the Blues are in danger of making a mockery of game nights with their revised Ice Girls for the 2007-08 season.
Last season, the Ice Girls meant cute girls on the ice scraping up the snow along the boards and the goals during TV timeouts. They weren't middle-school aged but they weren't 21-year-old hotties either. It was kind of an awkward in-between. So now the Blues have decided to take it the other way. Here are their requirements:

   - Applicant must be 21 by September 15, 2007 (no maximum age restriction)
   - Applicant must live in St. Louis or surrounding area
   - Applicant must have reliable transportation
   - Applicant must be willing to attend all required practices, games & public appearances
   - Applicant must be a high school graduate
   - Applicant must wear crop-top during dance portion of try-outs
So the Blues want girls who are of legal drinking age who live in the area and can get to practice, games and events. They also have to be able to read and write (at least a little) and look hot in a short shirt. Awesome. And then you see this:
 Dancers wanted - no skating required!
You've got to be kidding me.
On the FAQ Â for prospective dancers, it mentions that the women will perform a dance at least once per game. Helllllllllllllllo beer run when that happens. As the turnout at the development camp and the scrimmage proves, hockey fans in this city are coming back to the franchise because of the product on the ice not in the aisles. The fanbase is energized about Paul Kariya and the devopment of players like Lee Stempniak and David Backes and not some lame dance routine to a song 99 percent of the fans probably fucking hate.
And one more thing.
If this is the look for the girls they're going after, I think most of us can agree that they should leave their half shirts at home.
In case you want to try out (Chris Gift, I'm looking at you), here are all the details (Chris, I'll even pay the $10 application fee). No word on if the tryouts are open to the public (possibly the only redeeming quality to this looming fiasco). Â