By Sean Gallagher
And you were going to rip off yet another shitty PR scheme from yet another NHL team, how would you modify the Isles and their "Christie Brinkley Was Hot Once And She Likes The Islanders; You Should Buy Some Tickets!" campaign?
I mean, St. Louis has some talentless ladies known for being pretty in the 80's right?
Sure, Janet Jones Gretzky is a So. County girl, but she's unavailable due to her recent roles as "Unindicted Co-Conspirator To Federal Racketeering Charges" and her greatest Hollywood role ever: "Talentless Woman Who Pegged The Money Machine By Landing The Greatest Hockey Player Of All Time And Convincing Him To Leave His Homeland And Any Chance Of Ever Winning Another Stanley Cup In Order To Move To Los Angeles So I Can Not Pursue A Hollywood Career That Doesn't Exist Anyway Because I'm Basically A Talentless Woman Who Thinks She Can Be In Movies, But I Can't Really And Who Cares Anyway Because I Just Landed A Super Rich Hockey Player And Convinced Him To Leave Canada And Force A Trade To Los Angeles So I Could Then Spend His Money And Not Make Any Movies But At Least I'm Now Rich And No Longer Live In St. Louis. Hmm, Maybe I'll Start Gambling Tons Of Money On Sports With My Husband's Assistant Coach. God, I Hate Arizona, But At Least It's Not South County St. Louis."
There's got to be someone out there the Blues can throw a jersey on, hit the fan and shoot some Glamour Shots of, right?
Bring 'em on in the Comments, and we'll post pictures of your suggestions here.
Reader Suggestions: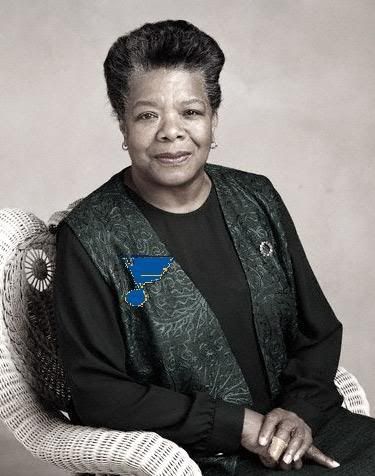 Maya Angelou - St. Louis born poet
Phyllis Schlafy - St. Louis born antifeminist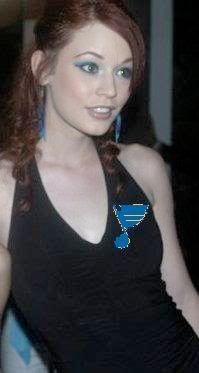 Justine Joli - St. Louis reared, um, "starlet"
Sheryl Crow - Not from St. Louis, but we don't care.
Shandi Finnessey - St. Louis born Miss USA 2004
Tina Turner - St. Louis raised singer and Mad Max co-star
Which one would YOU pick?