By Sean Gallagher
I hate to keep being negative about the Blues' recent attempts at marketing to the hockey fiends of Mound City. Actually, what I hate is that they keep inspiring me to write about their shitacular attempts at public relations. I mean, this really is not that hard. Just remember these few facts:
1. We know when we're being bullshitted (or bullshat, whatever is correct).
2. Hockey is a blue collar sport, even if 80% of your marketing efforts are intended to draw in white collar, corporate sponsorship. Look at it this way: when your team sucked on a giant jug of ass wine for two seasons, who supported you? Easy answer: the blue collar guys in the upper bowl. Who abandoned you? Yep, the white collar corporate sponsors that own many of the seats in the lower bowl.
Easy tip, broken down for you: white collar corporate sponsorships and season tickets come easier when the team is good, but the blue collar people are your true fans. Cater to the blue collar people all the time, win games and the white collar shit will follow.
3. It takes very little effort to make a big impact with your core fans, but an obvious lack of effort will also make a big impact with your core group of fans.
Take, for instance, this genius move by the Penguins' PR Dept (courtesy of our friends at The Pens Blog): Sidney Crosby and other Pens hand delivered season tickets to their fans.

What the fizzuck? I just got a letter from the Blues today with my worthless pre-season tickets in the letter. No, Dutchie Stempniak did not deliver them. Nor did Paul Kariya. Hell, it wasn't even Martin Kariya.
It was Paul, my regular mailman, who is either a serial killer in waiting or an undiagnosed adult with autism (or both).
One other difference? The Pens' season tickets come in a fancy box with all sorts of motivational action pics. Check out Malkin's left hand:

Wanna know what my tickets looked like?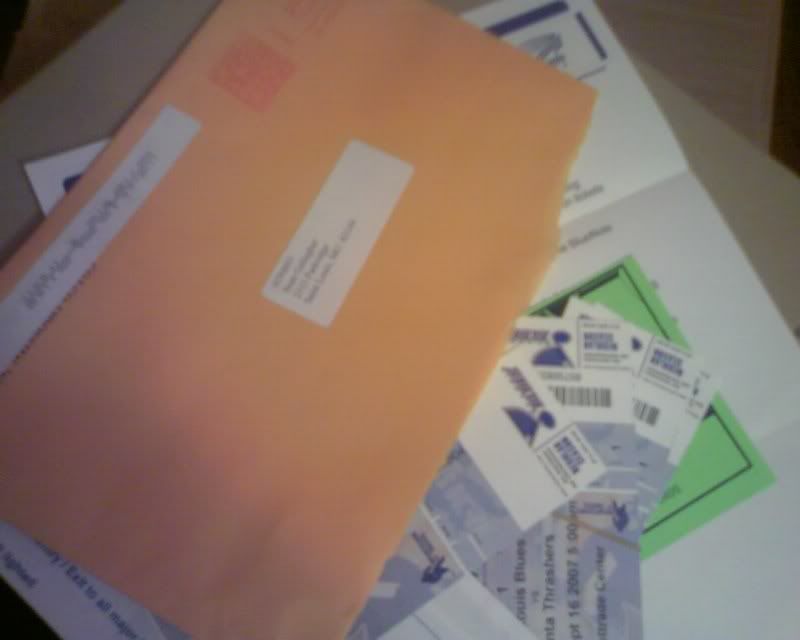 Hmm. I bet someone in Blues Marketing is cursing the internet right about now.
Plus, about half of that mess is an ad for one of the parking lots. I can buy a spot in the lot for $10 a game, which is more than my seat costs.
But I bet it's a nice spot and my car would enjoy it.
I think a lot of my complaints go away if the team starts off winning games this year, but don't expect me to ever lay off this team if they continue to cater to the fickle business-class patrons of their product and not the upper bowl denizens who live, breath and truly love this team.
Unless, of course, Paul Kariya shows up at GTHQ with my season tickets sometime in the next couple weeks. I mean, anything's negotiable, right?