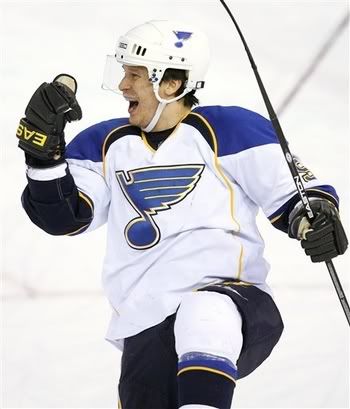 By Brad Lee
INTERMISSION
Umm..... The commentary might start a little slow for the second period. I have to go pick up a pizza. To get a full refund for this live blog, send your receipt to our offices in Nigeria and they will send you twice the amount in conflict diamonds.
9:10 Let's see, what did I miss:



A Columbus wraparound goal


Ears making a save on the fourth breakaway of the game


And Andy Murray staring a hole through his team


Sweet.
7:24 Puck just sitting there and Boyes couldn't put it over a sprawled Leclaire. And now the Blues are pusshing and shoving. They need a Dwayne King punchfest.
There's a penalty. We think it's hooking. We don't know what team it's on. Classic.
5:22 Oh, it's on Kariya. Fannnnnnnntastic.
And I want to shoot in the throat that guy who yells, "Another Blue Jackets powwwwwwwwwwer play!"

pdub Says:
January 11th, 2008 at 7:33 pm e
BJs score again here and I start drinking early tonight.Â
It's past noon, isn't it?
3:22 BJ power play was pedestrian until the last five seconds.
OK people, here's my question to last until the third: An effort like tonight after two tremendous games, is this a sign of youth, is it the back-to-back effect or was the team not as good as the last two games appeared?
2:01 I LOVE BOYES! Power play goal from the left circle. Puck came straight out. That makes it 3-2.
And maybe the answer to my question actually is: wait until the third period before you decide what the Blues are doing tonight.
1:41 Ryan Johnson with a shot. It was hard to see what he actually did because FSN shrunk the screen for an overly large graphic of Boyes' season stats.
And if RJ can get a good chance, it shows how fickle the momentum can be in this game. Kelly credits the timeout but the HOFer thinks it was killing the penalty. Personally, I think it was fresh words on the live blog.
END OF THE SECOND
Gotta admit, that period ended a lot differently than I was expecting. Blues still in this thing. Whoever controls the action early in the final period will probably win the game.
New thread up shortly.