By Sean Gallagher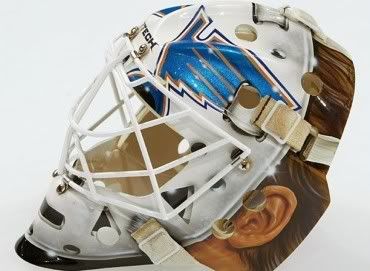 The Blues announced (in a very low-key manner, I might add) that they have sent struggling backup Hannu Toivonen to Peoria. At the same time they have recalled Marek Schwarz to St. Louis.
Toivonen has struggled of late, losing the last five games he appeared in, and has not won since Dec. 7 against the Oilers.
His goals against has ballooned to 3.29 and his save percentage is just a hair over 88%.
Meanwhile, in Peoria, as Schwarz led his Rovermen to victories over the Steelcocks, Shitknuckles and other such teams, he has fashioned a record of 8-6-2 with a 2.37 goals against and a save percentage right at 90%.
In his one game wearing the Bluenote this year, Schwarz compiled a 5.60 goals against and a save percentage of 75%. Of course, he was shellacked for just one goal on five shots in just over 10 minutes of game time (not related) in that trainwreck of a game in Colorado this year.
In disappointing news, Schwarz does not have ears painted on his helmet.