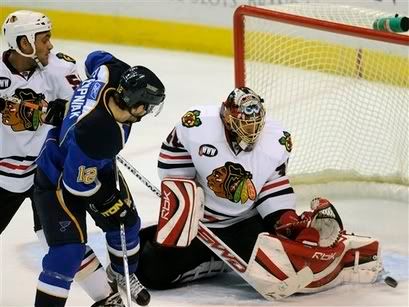 By Brad Lee
We're here, we're tired and a little cranky. The real world (beyond the Internets and not the TV show) has us a little worn down tonight. So fair warning, if the Blues suck it up early, we're going to be sharp and biting and probably a little bit of an asshole.
Here's part of a preview we ripped off linked to from The Sports Network (whatever the hell that is):

Now that the Chicago Blackhawks have ended their longest losing streak of the season they will try to post back-to-back wins, as they welcome the St. Louis Blues for tonight's test at the United Center.
The Blackhawks had lost eight in a row before posting a dramatic victory in Nashville on Sunday. Patrick Sharp scored the shootout winner, in addition to a regulation goal, as Chicago edged the Predators, 3-2, at the Sommet Center.
Chicago's previous victory also came against Nashville, as the Hawks notched a 5-2 decision over the Preds on December 26.
Sharp was the final shooter for Chicago on Sunday and his attempt came with the shootout tied at 1-1. After Patrick Lalime stopped a shot by Nashville's Alexander Radulov, Sharp delivered the clincher with a backhander over a sprawled out Dan Ellis.
Robert Lang had a regulation goal, and Lalime stopped 35 shots for the Blackhawks.
Chicago is 12-12-1 as the host team this season, but has lost four in a row at the United Center.
The Blues, meanwhile, have dropped two straight and the club is just 6-6-5 in its last 17 outings.
And now we're hearing an awful anthem. Wayne Messmer was so much better than this dickweed. And when did they stop cheering during the anthem, when they started drawing 4,000 a game?
And Federko just cemented his place in douchebaggery. He said the anthem there always give him chills. I bet he thinks it's the same guy (Messmer) as in the old stadium. Hilarious.
Blues have scored first seven games in a row? That's weird.
18:53 Charles Glenn is laughing somewhere.
18:18 Legace has plate glass in the goal or something because the Hawks had one there. Holy crap what a glove save. "He stoned him right there," Federko said. About the only way to stop Emmanuel is to throw rocks at him. Coincidence?
17:02 I hope Tkachuk makes a joke about Lalime's career every time he skates by the crease. "You really flushed it down the toilet in St. Louis, Latrine!"
15:59 Dwayne King line causing pressure again. Nice to see.

Gift Says:
January 16th, 2008 at 7:42 pm e
Amazing how Dutchie's production is down. I wonder if that has anything to do with not playing with Walt this year?
Actually, I thought he played his best with McClement and Backes.
13:55 Hard to blog when there are no stoppages.
13:08 "Dribbled in by D.J. King," Kelly said. That just doesn't sound right.
Kelly says the whistle here at 12:50 is the first of the game. Didn't Legace freeze the puck on that big glove save? Maybe not, but I don't imagine him throwing it down in that situation, plus they showed a replay. I think Kelly is dead wrong. Too much time working for Federko.
11:03Â Cheating on the Hawks' Brent Seabrook. Shockingly, the Blues have PP goals in three of their last four games. That means they're due...to allow a shorty to Sharp. Told you we were a little cranky tonight.
10:05 Blues broadcast producers, please stop putting up the big fucking senseless graphics and shrinking the screen. It will make us break something at some point if you keep doing it. Respect your viewers, get you heads out of your asses and do something useful like coach Federko to not sound like a fucking moron.
Thanks.
8:13 What's even dumber is Eric Brewer hanging out in front of the offensive net for really long periods of time. It's a 3-2 just waiting to happen every time.
7:33 The longest tenured Blue, Jamal "He Has More Heart Than Skill" Mayers is in the box for holding. In the offensive zone. No excuse. The second rule of the Blue Note Code is "Don't do something stupid, Jamal."
5:35 Blues kill off the penalty. Not too many scoring chances for the Blues so far. More for Chicago. Not a good sign.
4:38 SHARP JUST TRIED TO KILL LEGACE. mother. fucker.
Manny is grabbing his wrist where Sharp hit him with his knee as he was sent flying head first into the goal. And Kelly said he's got an old injury with his wrist, still tapes it up.
LEGACE STILL IN NET coming back from commercial. Jackman kind of helped Sharp into Legace, but Sharp fucking dove at him.
Where's that beer I had sitting around here...
0:35 Man this period went fast. Other than Legace, making big saves or almost being killed, there's not a lot to talk about. We'll let you know in the comments when the next post is open.