By Brad Lee
Thursday morning, we got an e-mail from the St. Louis Blues. In an effort to boost ticket sales for Tuesday night games, they decided to offer free drinks (beer, soda, water) in some sections for as low as $25 a ticket. The promotion was called "Tuesday's On Tap."

It's "Tuesdays on Tap" with the St. Louis Blues! Get all-inclusive drink seats at Blues games starting at just $25. Check out the hard-hitting action on the ice from select sections of Scottrade Center, and enjoy all-inclusive drinks* included in the price of the ticket!"Tuesdays on Tap" begins with the February 5 game vs. Tampa Bay and is good for every Tuesday home game through March 4.
You get the tickets, and we'll get the drinks. Call 314-622-BLUE or
click here
for tickets. Â

Don't bother clicking the link to get tickets because they cancelled the promotion less than 12 hours after sending out the e-mail and any link you find about the promotion sends you to an NHL error page. Apparently someone with the team decided that charging $25 a ticket and giving unlimited beer until the second intermission might have been a bad idea, even on a Tuesday.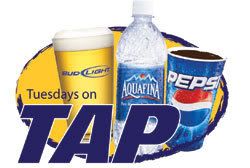 For the record, we don't condone drinking and driving. It's illegal, dangerous and just not a good idea. And while we have been known to have a beer or two at a game, we encourage and hopefully display responsible behavior. But doesn't this decision kind of seem like a slap at some of our fellow upper-bowl brethren? We kind of think so.
If you pay about $100 (some games have had discounts), you can sit in the club seats and gnosh on unlimited hot dogs, brats, chicken bites, popcorn, water, soda and beer. It's all part of the ticket. You literally wave your hand, they give you whatever you want on that list. It's amazing, glorious even. There's a rumor that you can even sneak beer out to fellow Game Time writers. Allegedly.
They offer this deal every single game, be it a Saturday night against the Hawks or a Tuesday night against the Kings. And they don't stop serving until halfway through the third period. We guess that these pricier seats are expected to draw a classier set of fans to games. The front office must think, "Anyone who pays for these tickets will have to drink in moderation because they have to walk back to their Lexus, drive home to Ladue/Clayton/Town and Country and be at work to trade stocks and make millions tomorrow." It seems the team thinks a that the guy who spends $25 to sit upstairs and drink free beer probably walks back to his beat-up El Camino and has a day laborer's job that he probably calls in sick for once a week because he's hung over. Obviously this decision says that the people who sit in the more expensive black leather seats -- walled off from the rif-raff -- can handle their liquor and the bums upstairs will probably drink way too much and cause a scene or kill someone on the way home. Â
You can probably argue about the merits of $25 tickets that include unlimited beer, but it's hard to see anything but a double standard when you see what spending more money on tickets will get you. But what do you think? Belly up to the bar and enlighten us in the comments.
(By the way, this decision could also have been an instance when the team just had bad timing. On the same day the Blues made this ticket offer, former Blue Rob Ramage was sentenced to four years in prison in Canada. He was convicted of driving drunk in an accident that killed former Hawk Keith Magnuson. Oopsy daisy.)