By Brad Lee
With the Blues off for a couple days this week, we don't have a lot of good photos that are Blues-centric. So instead, we'll go with a photo from possibly the best goal of the season to date.
Last night in Phoenix, the Columbus BJs were tied 3-3 in the last minute of regulation. The teams were playing four on four and there was a faceoff in the Columbus zone. The puck came around the boards to the right point and Derek Morris tried throwing it in front of the net to make something happen. He did, just not the way he wanted. The puck was intercepted and Michael Peca hit a streaking Rick nASH with a long outlet pass. He was alone going the other way against Morris and Keith Ballard. He pulled off about five moves, split the defenders, had the puck pop up into his pants and land in the crease as he skated around a sprawled Mikael Tellqvist. nASH even hesitated before sliding the puck into the open net, probably dumbfounded at how he got into such a scoring position.
To see this goal, go to the video highlights of the game.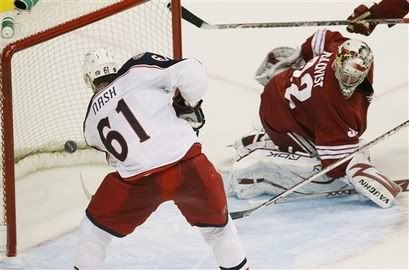 What do you think nASH and Tellqvist were thinking when this happened? Tell us in the comments.