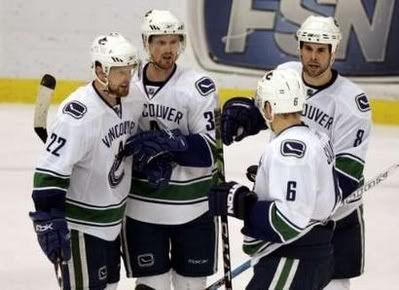 By Brad Lee
The clock is ticking on the Blues actually making a playoff push this season. And as the losses mount (five in a row and counting), the clock is ticking faster and faster.
Tonight the Blues start a rough two-day stretch that will see them play in Vancouver, pack up and cross the board and fly to San Jose where they'll play Thursday night. Hopefully the team will play hard seeing that the All-Star Break for the Blues starts Friday.
If you haven't read the transcript from the John Davidson, why the hell not? You would have seen that Erik Johnson and David Perron are both expected to be healthy scratches tonight. Legace will be back in goal. Here's the Yahoo! sports preview.
We'll just pick this post up for the live blog, so don't be afraid to get a comment in early.
19:38 We're here. Weird start to the broadcast with Jimmy The Cat Hayes talking over the action. And we have our first penalty of the night...Tkachuk for closing his hand on the puck? Oh fuck me right in the elbow.
17:30 Penalty killed off. How would you describe the hue of blue the Nucks are wearing?
17:12 Blues get to suck on the power play early in the game. Sweet. They convert 12 percent of the time, WORST in the NHL.
15:48 Erik Johnson is scratched along with the hurt Ryan Johnson and the recalled Yan Stastny. David Perron was rumored to be scratched, but apparently planes from Peoria to Vancouver are slow as hell.
And Legace makes the nice save on the breakaway. Love shorthanded chances for the other team.
"And if there was any question about Manny Legace, so far tonight he's back on his game," Federko said. Of course, less than five full minutes into the game is a tremendous barometer for the starting goaltender.
14:48 The Blues kill off their power play, really limiting their own scoring chances. Good work, boys!

Gift Says:
January 23rd, 2008 at 9:13 pm e
Is this the first 100% Johnson-free game?
I believe so. Man, the Blues will have to compete hard to score without a Johnson.
13:46 Sweet shiner on Backes. Got hit in the face with a puck. Stitches all around his eye. Backman deflected a puck up into his face.
And wait a second, Backes leads the Blues in hits? What. The. Fuck. Seriously Jamal Mayers, you should be ashamed by that. Same with you Hinote and Johnson. That's damn pathetic and an illustration about the Blues' competitive level in the last few weeks.
11:33 Legace almost pulled an Ears-like play deflecting a pass about 10 feet out of the crease. Holy hell. Don't do that again, Emmanuel.
10:33 Will a couple of you go post a comment on the Answer Man's top 11? He was bitching about how it wasn't on the top of the page. After three periods of live blog, he'll be lucky if it's on the front page. Any reference to almost not seeing the list are appreciated.
9:19 McDonald with the shot on goal and Luongo the save. And then the fans started making noise like they were booing. Are they saying something about Luongo's name? Or do they hate Andy McDonald or something? Fucking Vancouver fans. Morons, every single one of them. Can't wait until that sentence gets Googled at some point.

Jessica Says:
January 23rd, 2008 at 9:22 pm e
i hate to say that i agree with federko, but manny has started to wander a little too much for my comfort level. think the blues could invest in one of those invisible dog fences to keep him close to the crease?Â
Nice image.
8:02 D.J. Dwayne puts one in the back of the net! Dance party in St. Charles this weekend. 1-0 Blues.

Gift Says:
January 23rd, 2008 at 9:25 pm e
Do you think when Jim Hays covers games on ice level he wears…nevermind, I'm not going there.Â
Yes, I'm pretty sure he has store-bought hair.
7:02 And do you think when King scores that a little part of Matt Walker dies inside?
5:00 Tkachuk back in the box. Delay of game. I thought he was across the red line. Maybe not. I could rewind on the DVR. Ok, I don't care that much. I'm sure the refs wouldn't make the wrong call. Ever.
4:16 Nucks kind of dangerous on the power play, but the penalty kill has been pretty good tonight.

Tim Says:
January 23rd, 2008 at 9:30 pm e
DJ King had a dream, and it came true!Â
Tim, you can comment around here anytime. That's gold.
2:45 Sean Gallagher is alive. I have proof. That or Son of Game Time is a lot more of a smartass than I thought:

gallagher Says:
January 23rd, 2008 at 9:35 pm e
By the way, Bradley L. Lee, the fans chant "LOOOUUUU" for Luongo when he's not allowing goals by enforcers. His gay nickname is "Bobby Lou".
If you read Game Time, you'd know that.Â
Ummm. I didn't have $4 of good karma.
1:39 Mattias Ohlund with the power play goal on their third man-advantage of the game. Of course the asses that run the broadcast never mentioned who went to box for interference. At least they didn't put a graphic up because I rewound and didn't see it. Eh. It's now 1-1. Both Sedins got assists. Fuckers.
0:7.4 left in the first and the refs realized they hadn't tried evening things up in awhile. So the Blues will have a power play after Jason Jaffray kind of hooked McClement.
Oh fuck me in the nostril. Mayers was out to take the faceoff. The puck was loose and Mayers put it wide. Can't anyone take faceoffs better than the black Ryan Johnson?
End of the first. Gift wants us to take some pictures from our TV. We'll have the second period thread up soon, pushing Answer Man's top 11 (his first contribution to the blog in days) closer to the bottom.
Is anyone else's TV just a black screen right now?
Ok, it's back. For a second I thought Vancouver fell off the map or someting.