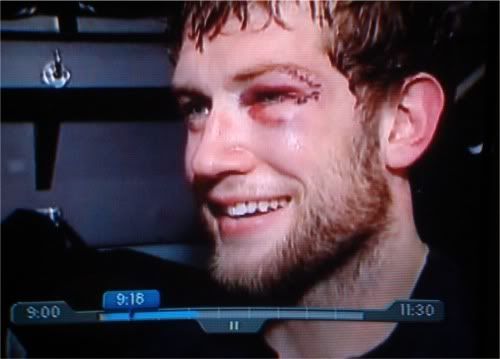 Â
By Brad Lee
18:44 WE LOVE BOYES! On the powere play. That's his 28th of the year.
17:19 Some guy named Mason Raymond just hit the post. Who?
13:33 McDonald almost deflected the puck in. Sedins using their weird Swedish twin magic.
And the photo of Backe was Gift's idea. And for your viewing pleasure, Dwayne "Call Me Sniper" King.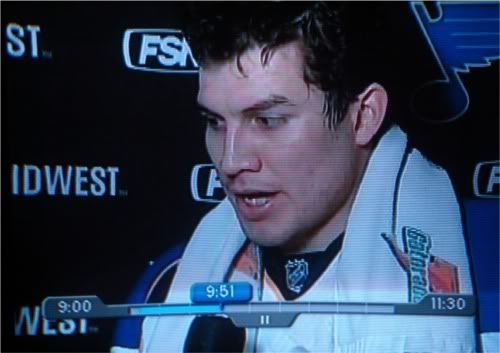 And the Blues have officially jinxed themselves. The Playoff Push Pack includes the frist two home playoff games. If we put audio clips up, we'd have a link to Jim Mora Sr. saying, "Playoffs? Playoffs? Playoffs? I hope we win another game. Playoffs?"

Johnny Stats Says:
January 23rd, 2008 at 10:13 pm e
Thank you for letting me see the stitches. Being far away from our tv market this kind of makes me feel just a lil more at home.Â
We're here to please. And could I interest you in a Game Time subscription? Just $2 an issue. And if you plead poverty and far away college student or something, Gravy might even give you a break.

Tim Says:
January 23rd, 2008 at 10:15 pm e
Kelly says Vancouver is short another D-man after an injury in the first. Maybe we can deal Backman while we're in town and save them the shipping and handling.Â
I just checked ebay. He's not on there. Yet. Hopefully a buy it now option soon.
8:33 Yan Stastny justed talked to Jim Hayes' hair. We might have a photo.
5:33 Not a lot going on in the game. The Sedins just put it weakly on net.

pdub Says:
January 23rd, 2008 at 10:22 pm e
Is someone trying to start the wave in the near crowd? Is this Canada?Â
Told you they were morons.
And Rick Bowness told John Kelly the only way you can tell the Sedins apart is because one has his eyes further apart. That's just odd. And apparently Bernie has never seen identical twins because he sounds flabergasted.
The Jack In the Box commercial with everyone saying "Why didn't I think of that" ends with a rip off of another commercial. The guy asks his dog. His dog thinks, "I did." Ripoff of the Bush's Baked Beans commercial. Hacks.
And don't worry, we have a picture of Bernie circling sticks trying to figure out which Sedin is which.
3:13 McKee couldn't clear and I think Madonna's husband "missed the net by three inches."
And an uneventful end to the second period. Here are two pictures for your viewing pleasure. First is Bernie telestrating how to determine which Sedin twin is which...in case you can't see their numbers I gues.
And this is Yan Stastny, the next guy who will take turns sitting with D.J. King and David Perron.
We'll have a new thread up for the third shortly. We promise it will be before the period actually ends....but we do have to add this:

Chris D Says:
January 23rd, 2008 at 10:39 pm e
so i go to practice one day back in highschool and i hear the coach call the following line chris d. stasny and federko. now one of them is going to be in a blues jersey how sweet is that
That's pretty cool, playing with a future Hall of Famer in Federko.
Oh. You meant his son. Still a cool story.