By Immanuel Emmanuel Legace II
Just flew in from Atlanta for the All-Star Game and boy are my arms tired! Thought I would catch everyone up to speed with how I did since you probably didn't watch the game. We don't even get the bullriding channel on our sattelite dish here in Ladue. My wife Gi took some great, professional-looking photos. So here we go....
You would think that player wives would get better tickets than this. The family's seats were so high up, the lights and scoreboard got in the way. But it gave her a good view to get this shot:
Needless to say, I closed the door on this guy. I mean he's no Sidney Crosby. Honestly, I don't really remember. We had a few drinks after the skills competition and it's all kind of a blur. Here are my drinking buddies:
Thats Ozzy on the left and Nabby on the right. Both good guys. I think playing in almost every game is getting to Nabby though. He couldn't hardly order another bottle of vodka after his second one.
By the way, the family did get to move down during the game. About half way through the first period, they saw Gary Bettman and his group get up. Something about beating the traffic. So they had great seats to see all the stars that were in attendance:
That's Alyssa Milano. Loved her in "Who's the Boss." I thought she only liked baseball pitchers. Who knew?
Also:
This is Garth Brooks. I didn't know he liked hockey either. You learn something new every day.
The game was pretty exciting. I came in for the third period and we were in a great position to win.
But I obviously wasn't in a very good position to make the save. I can't believe I just included that picture.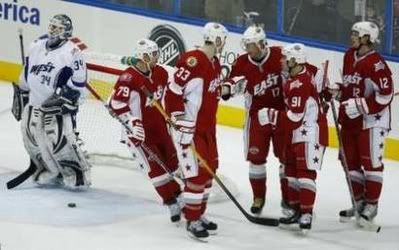 I can't believe I included that picture. In case you hadn't heard, we lost. But in all honesty, playing goaltender in the All-Star game is a lot like playing the role of the bull in the bullfights. You know it's probably not going to end well. But at least the family had a good time. I need to rest. If I remember correctly, coach Murray wasn't happy the last couple weeks, so practice might not be so fun. So I better run.
Your friend,
Manny