By Brian Weidler, "Game Time " Prospect Department
2008 Blues' draftee Jake Allen was recently named QMJHL Defensive Player of the Week for the week ending October 28, 2008.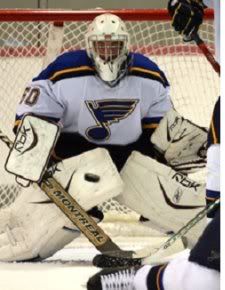 Allen, the Blues' third choice (34th overall) in last June's Entry Draft, stopped 63 of 66 shots against in two games last week for Junior de Montréal. The lanky native of Fredericton, New Brunswick, defeated the Saint John (NB) Sea Dogs 6-3 last Friday, and turned away all 31 shots by defending Memorial Cup champion Gatineau on Sunday in a 5-0 victory.
Allen spent much of the 2007-08 season as the backup to San Jose prospect Timo Pielmeier with the St. John's (NF) Fog Devils in the "Q." Named to Canada's entry for the U-18 World Junior Championships last spring, Allen stole the spotlight by posting a phenomenal 1.43 GAA (10 goals against) and 94.8% save percentage in seven games, leading the Canadians to the championship and securing the tournament's Top Goaltender honors.
At the Traverse City Prospect Tournament in mid-September, Allen split duty with Ben Bishop in the Blues' net, and posted a 1-2 record with a 3.00 GAA and respectable .909 save percentage. He earned a trip to St. Louis for the Blues' training camp before being sent back to the "Q" for more seasoning.
--------------------
"If we do not prepare for ourselves the role of the hammer, there will be nothing left but that of the anvil."
-- Otto von Bismarck, 1851