By Brad Lee
When the Dallas Stars visit St. Louis Thursday night, they will bring with them the most controversial player in the entire NHL. Sean Avery tries to be a dick. And he's good at it. But that's not necessarily a bad thing.
The facts are indisputable. Avery led the league in penalty minutes twice while with the Los Angeles Kings. In a 2007 The Hockey News poll, 66 percent of NHL players voted Avery the most hated player in the league. The NHL has fined him for diving and criticizing officials. His actions last year in the playoffs pushed the league to create a rule just for him. He's been accused of making inflammatory comments during games about the race and serious illness of opposing players. In just two games this season he's earned 27 penalty minutes and was given not one but two game misconducts during a single game. Now that is hard to do.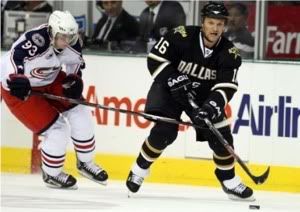 And yet with all that baggage, all the vitriol and all the examples of how he's a Grade A dick, the guy can make a team better. When Avery was in the lineup for the New York Rangers last season, the team was 19 games over .500 with him and four games under without him. The Stars this past summer signed him to a four-year, $15.5 million contract. It should be noted that the contract was offered by Stars general manager Brett Hull, a former teammate and roommate of Avery when both played in Detroit. I would guess Avery's agent accepted the contract without asking his client and immediately declared "no takebacks." It should also be noted that through two games before the Stars host Nashville tonight, Dallas is 0-1-1.
All this and I haven't even mentioned him dating actress Elisha Cuthbert or super model Rachel Hunter or how Avery spent his summer as an intern at Vogue magazine. That summer job caught the attention of ESPN reporter Rachel Nicholls. She did a recent piece on Avery for the news magazine E:60. During their time together, they went clothes shopping and he rated a store's selection of purses. He told a story about stealing his babysitter's dolls to dress them. He also talked about going to fashion shows and making new gay friends in Dallas.
When asked about being named the most hated player in the league, Avery said, "I like it. It's what I do. I try to go out and make the opposing team's life miserable."
Like I said, he tries to be a dick. One example came during a playoff series vs. the New Jersey Devils last season. On one possession Avery parked himself in front of goaltender Martin Brodeur. Instead of putting his back to the goalie like most other players, Avery faced Brodeur holding his stick in the air. He then got as close to the goalie as he could in a "I'm not touching you!" sort of way and commenced waving his stick in Brodeur's face attempting to screen/distract him.
Even while he was doing it, teammate Chris Drury skated over and said something, pretty much telling him to knock it the fuck off. Of course for Avery's sake, he scored a goal the next time down the ice. During the post-series handshake, Brodeur refused to shake Avery's hand. Shortly after the stick waving incident, the league changed a rule (during the postseason, mind you) banning that type of activity. It was immediately called the Avery Rule. The dick even got his own penalty.
"It would certainly be good for the game if we marketed the game. But the NHL does a terrible job of marketing. They haven't figured it out that villains and heroes are what sells," Avery said in the ESPN interview. "Our commissioner hasn't realized that he needs to do a better job of marketing the game and the players in it. No one cares about Jarome Ignila and guys like that. They're not exciting enough."
Now there's a guy who gets it. What Avery is saying is the secret to professional wrestling's enduring popularity. Every WWE match has a hero and a heel. The fashion thing, the Hollywood girlfriends, the antics on the ice and the sound bytes off it, the whole package equates to a character he's playing. And his whole message is that the league needs more characters. I can't agree more.
Too many players in the NHL are small town, down to earth, quiet Canadian farm boys. Or they're from Sweden or Russia or some other Eastern European country and barely speak English much less show a personality.
Sure the NHL needs to market its star players like Crosby and Ovechkin. That's easy. But those are just two guys in a league of 30 teams covering two countries that spans from southern Florida to Vancouver in British Columbia. If this was baseball, reporters would talk about Avery being Avery. In football he'd be talked about like Chad Ocho Whatthefucko and TO. But in a conservative, white-bred sport like hockey, he's targeted. Sure he's earned the hate, but why aren't there more like him? In the halcyon days of the Blues-Blackhawks rivalry, St. Louis fans loved to hate Chelios, Roenick, Goulet, Larmer and Belfour. Especially Belfour. Hate breeds rivalries. Rivalries sell tickets.
So when Avery takes the ice at Scottrade tomorrow (assuming he's not suspended or something), it's cool to boo him. And it's also cool to cheer when he gets his ass kicked by Cam Janssen. After all, he's still a dick.