Since there's nothing going on with the Blues today, your GTPD is live-blogging from Carver Arena, on the riverfront in beautiful downtown Peoria, Illinois.
Small crowd here in Peoria on a Sunday afternoon. Starters for the Rivermen include Nikolay Lemtyugov and Julian Talbot, and Chris Holt in goal; others are either Dallas prospects (Chris Conner and Ivan Vishnevskiy) or oldies-but-goodies (Andy Wozniewski).
Schawarz is not here for the Rivermen; Holt's backup is PTO guy Brian Hamilton from the Bloomington Prairie Thunder (IHL). Bacashihua is in goal for the Lake Erie Monsters. Peoria has put four shots on him, and nothing in yet. Lemtyugov set up Talbot in front on an early power play, but Bacashiua stopped him.
Goal by Lake Erie at 9:21. Rob Drummond, his first of the year from in front of the net.
Peoria answers right back... at 10:02, Steve Regier puts one by Bacashua fter a scramble in front. Regier's fourth, assists by Linglet and Woywitka.
Tyson Strachan goes to the box and feels shame for holding at 10:43. Chris Porter and Trent Whitfield lead the penalty kill for Peoria. Holt with a big kick save on a slapsot from the point by Kyle Cummiskey.
Peoria kills it off and goes to the PP themselves. Lake Erie now back at full strength; two shots on goal for Peoria on this PP.
17:12 first... Peoria back on the PP. Junland to Conner, drops to Lemtyugov... shot... and a save by Bacashihua.
Giveaway by Wozniewski on the PP; shot, and a save by Holt. One minute to play in the frst. Shots 11-5 Rivermen. Talbot taking, and winning, most of the faceoffs for Peoria so far.
End of first period, Peoria and Lake Erie tied at one each. Shots 11-5 Peoria.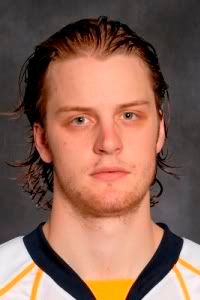 Both teams are 0-for-2 on the power play. Talbot has taken seven faceoffs, and won five of them. Chris Porter and Cam Paddock are both 2-for-2, Trent Whitfield is 3-for-5, and Nick Drazenovic won the only faceoff he took.
Second period about to get under way.
Lake Erie putting more pressure on Holt to start the period.
Ryan Reaves with a steal, and puts one by Bacashihua on the long side at 2:59 of the second... 2-1 good guys.
Peoria with a good penalty kill; Jonas Junland is looking pretty strong out there, with a big hit and a blocked shot on the same shift.
Another penalty on Peoria; Whitfield for a hook at 6:54. Cam Paddock has been strong on faceoffs for the Rivermen, winning two in the defensive zone so far this period.
Brian Willsie in the box for Lake Erie at 9:05 for an elbow. Not much of a PP for the Rivermen so far, but Holt made a good stop on a shorthanded chance by Lake Erie.
Wow... the Monsters are in penalty trouble for sure... Jesse Bowl-O-Rice took an elbow and Darcy Cambell took a tripping call at 11:04, and now the Monsters are getting another penalty for too many men on the ice. 5-on-3 for the Rivs for over a minute and a half.
And there we go... Whitfield from Conner and Lemtyugov at 12:16 on the PP, and still a 5-on-3 for the good guys.
So much for that... Lemtyugov takes a slash at 13:19.
Paddock just misses Reaves on a 2-on-1 breakaway shorthanded...
Lemtyugov is baa-aack... but goes to the bench. Linglet just misses a wide-open side on the rush.
Whitfield has been Da Man on faceoffs for Peoria this period; six of seven wins. Holt is looking strong in net on the few chances Lake Erie has had.
Bacashihua just got bowled over in a scrum in front of his net, I think by his own guy going after Chris Conner on the side of the net.
3-1 Peoria after two; shots 23/13 Peoria after two periods. Drazenovic took four faceoffs and won three, Porter won his two in the defensive zone, Talbot was only 1-for-2 in the period, and Paddock was 2-for-3.
NHL vet Jeff Cowan takes an interference call for Peoria at 33 seconds of the third period; Peoria on the PK again.
End-to-end action here in the third; the Drazenovic line is flying.
Another penalty for Peoria; this time it's Cam Paddock for holding at 7:11.
Hmm... a controversial goal for Lake Erie. Looked like it hit the crossbar from here, but the zebra says "goal." Goes to T.J. Hensick, unassisted.
The Monsters are keeping the pressure on now; Peoria can't clear the zone to save their lives...
Good grief... Wozniewski is 6'4, 225 pounds, and he plays like he's made of eggshell. If you like Eric Brewer, you'd love this guy...
Yikes... close call there as Marty Sertich was digging around the goal, but Holt was able to cover up.
Most of the play has been in Peoria's end this period, as Lake Erie got fired up after that questionable goal. Now Nathan Smith takes a slash at 16:59, Peoria on the PP with a chance to put this one away. And there it is... Regier feeds Chris Conner on the left side of the net, 4-2 good guys.
About a minute to go; Bacashihua's halfway to the Lake Erie bench.
1:08 to go, Bacashihua out, Whitfield hits the open net at 1:00 exactly. 5-2 good guys, and das is alles, methinks... Whitfield from Porter and Woywitka.
Game over... Peoria 5, Lake Erie 2, and the Monsters are looking to stir up some shizzle down in the Peoria end. Holt with 20 saves on 22 shots, looking good in his second straight start here.
Three stars coming up...
3rd star Ryan Reaves, 2nd star Andy Wozniewski (???), 1st star Steve Regier. I'd have given the second star to Holt, myself, but so be it. Down to the dressing room I go to interview Coach Payne. Auf wiedersehen...