By Sean Gallagher
As I discussed briefly in the latest printed edition of Game Time, the Red Wings and Blackhawks, who will compete in the Jan. 1 Winter Classic outdoors at Wrigley Field, unveiled their one-time use jerseys for the event yesterday.
Yes, you read that right: these are one-time use jerseys. Not throwback jerseys. Not third jerseys. Ug. Sometimes the Great NHL Cash Grab disgusts me.
Anyway, in my article, I'd hoped that the jerseys would be so damn fugly that no poor fan would be conned into spending their cash on a gimmick like a 'one-time use' jersey. Well, here they are: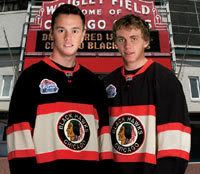 Personally, I think the Hawks will sell more than the Red Wings, but I really think that two years later if you wear either of these things to a game, everyone is gonna think you got ripped off by someone on Ebay.
Chicago is already taking pre-orders now, but they want to call you to tell you how much they are. We suggest you hang on to your hat if you want one; just getting lettering done is an $80 charge.