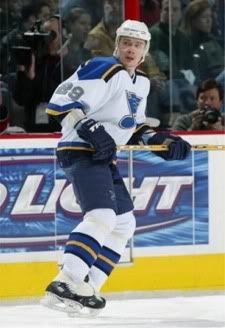 By Brad Lee
Even the most diehard fan has one player on his favorite team that he or she just can't stand.
It might be a guy who is overrated but the coach has an obvious soft spot for him. Or maybe it's a player who you know will choke in the clutch. Or maybe it's a guy you just don't understand why he gets playing time. So while you probably dislike the player a lot, there's always a few times when he does something right for a change and you end up cheering him. Seasons can get really long and sometimes you just need a scapegoat.
There are least favorite players on almost any team. Take Jason Isringhausen with the St. Louis Cardinals for instance. When that fucker was lights out, the fans would go crazy. When he would walk three straight batters with two outs, the fans would go crazy. Now you may have been so fanatical that you booed him and his wife during the World Series parade in 2006, but you probably cheered him before or after when he wasn't a sore-armed flop slinger.
Personally, I thought Ray King was a fun guy to have in the bullpen because he looked like a fan instead of an MLB pitcher. But his last season in St. Louis, he was really good at not getting guys out. It sucked. I wanted him to do well, but I always expected the worst.
Go to a Rams game, the field is full of them. Steven Jackson had the holdout. Marc Bulger replaced the deity. Orlando Pace doesn't like training camp. Leonard Little had that fatal car accident. The same fans who call sports-talk radio and do their best angry man impersonation are the same people standing and cheering when the Rams are winning.
Traditionally with the Blues, I like to dislike the guys who don't do what's expected of them. For instance, take Sasha Khavanov. He was generously labeled a defenseman even though he was adverse to contact and didn't like being in front of his team's net. He'd let the opposition bring folding chairs and a camp stove with them to the goal's doorstep. Sasha wouldn't go near them. He had some offensive ability from the blue line, but he was a liability every time he stepped on the ice. Fuck him.
Mike Eastwood was billed as a faceoff specialist. Unfortunately, I never remembered him winning a key faceoff late in a game. Dude would be put out there with the best players on the team, lose the faceoff and then make a change to get a real player on the ice. I dreaded seeing his slow ass out there to flail at the puck every draw he took.
My buddy Gabe a few years ago was not a big fan of Mark Rycroft. Granted, Mark Rycroft is kind of an obscure, fourth-line player who didn't have a distinguished career in the Note. But Gabe felt strongly about this guy. He actually called Rycroft a waste of uniform material. Those are strong words.
In recent years, the Blues have been filled with Least Favorite Players. Eric Brewer has been called a lot of things on the Internets. Emotional, fired up, great leader and inspirational player were never among them. At Game Time, we actually believe he's some sort of android that is void of all human emotion. The guy has never visibly enjoyed playing in St. Louis. Plus he was prone the last few seasons to making mind-blowing mistakes with the puck at his own blue line and in the neutral zone. Gaining the captaincy and not being a really visible fuckup have led the fans to boo him less. He'll never be a fan favorite, but he leads the Blues in ice time for a reason: he's not that bad.
Sister Christian Backman had all the tools in the world, and showed them once every eight games. Good riddance. Hannu Toivonen led the league in awkward photos showing the puck behind him in the net. Dallas Drake was old, slow and breaking down. All were targeted by fans with their displeasure.
This year is a little different. While we're only eight games in (almost 10 percent of the schedule), I don't' have a solid No. 1 Least Favorite Player. They're a bunch of likable players. Sure Cam Janssen can be a moron, but he's actually been successful of late drawing penalties from the other team and not retaliating. Mike Weaver and Roman Polak don't see enough ice time to get criticized. Dan Hinote's hustle makes up for his lack of skill. Lee Stempniak has seen a resurgence with talented linemates. I'm sure at some point someone will emerge from the pack and do something so stupid, his role on the team will be obvious.
Who is your Least Favorite Player in Blues history? How about on the current team? Let me know in the comments.