By Sean Gallagher
Like any fan, I find myself perusing the racks at the Bluenote shop from time to time. I'll also grab the occasional worthwhile Blues item off the "Ending Soon" list on Ebay.
But when you do a search for "St. Louis Blues" on the aforementioned Electronic Bay, what do you really find? Mostly just loads and loads (and loads) of dogshit.
I mean, of course, unless you really have to have a shirt of Calvin pissing on the Predators logo.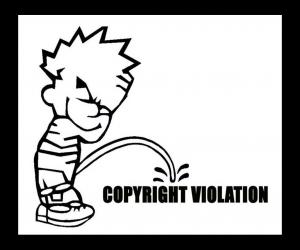 And speaking of terrible attire, the pitfalls that await the first-time jersey buyer are many and varied on Ebay. For instance, picture the range of emotions that will race across any child's face when they hear, "We got you your first Blues jersey!" Only to then be presented with this monstrosity:
Or this beaut, guaranteed to
get your ass kicked for you
by the other kids on the block:

Or if, say, your wife tries to do the nice thing and buy you a sweet new Blues jersey only to get duped into buying this thing. You know what's worse than a road clown jersey?
A road clown jersey that's made of mesh
:

And while we're not nearly cool enough to pull off
the ironic wearing of a too-tight 'vintage' t-shirt
with the Blues logo on it, we're really not ready to spend the money to gain the dubious honor of owning the
official game-worn Mike Danton throwback jersey
.

What exactly are you saying about yourself if you're walking around the DrinkScotch Center with your
Federal Inmate Mike Danton
jersey on? We're guessing that's not a show of solidarity, even if he's
probably the victim
in the whole case with that
David Frost
'character.'
All in all, the Ebays are a weird place to find your Blues gear. Unless you know exactly what you're looking for, it's easy to end up with the wrong thing altogether. If you don't know exactly what you're looking for or don't understand the ins-and-outs of Ebay unwritten clues, you're better off not risking your cash there.
While it's more expensive, we actually recommend going to the official Bluenote shop or to one of the local hockey shops. At least you'll know for sure what you're getting.
Or, you could be one of the cool kids who buys something different and helps charity: support the 14 Fund and buy one of the Pink At The Rink signed sticks. You can get one signed by all the kids, one from Brad Boyes or even Eureka's own Cam Janssen.
Even the pink Cam stick is a better move than spending your cash on, oh, something like these Blues fuzzy dice.


Fuzzy dice? Really? Who are you, the Answer Man?