By Brad Lee
Check around the Internets to take the temperature of the computer savvy Blues fans and you'll quickly find that many of them want coach Andy Murray's head on a platter. I can understand the sentiment, but it just isn't going to happen anytime soon.
First of all, I understand the discord. This is the fourth season since the NHL lockout. This is the fourth season the Blues appear to be headed to the golf course in April instead of the playoffs. Tickets are expensive. Damn expensive, even if the Blues have a new promotion where a few lucky fans will get some rent or mortgage assistance for a year. And this is the same franchise that went to the playoffs for 25 straight years, a professional sports record.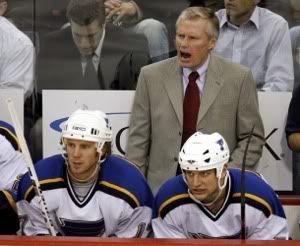 I'm just as anxious as the next person for the Blues to be dangerous again, to be consistently good. It wasn't that long ago that the Blues were in the Conference Finals, were winners of the President's Trophy. Most of all, what I want to see from the St. Louis Blues is improvement. That isn't happening right now. With the Blues in last place in the Western Conference and falling out of playoff contention faster than could be anticipated, it begs one big question: Should Andy Murray be fired? Maybe. Will he? I just don't think it will happen during this season for a number of reasons.
Obviously this is a young team. They have five players age 22 or younger currently playing meaningful minutes. It would be six if Erik Johnson was a less dangerous golfer. His absence on probably the No. 1 defensive pairing as well as the power play and the penalty kill is a huge mitigating factor. Would this team be better if it had Johnson playing more than 20 minutes a night? Absolutely. Is this team still learning and growing? Hopefully every night.
I understand the argument that you play the hand you're dealt. Whatever lineup you're able to build on a nightly basis, that's what you use and you don't make excuses. But what happens when TJ Oshie is obviously making an impact and he goes down with a high ankle injury? And then what happens when Paul Kariya, the Blues' leading scorer, goes down for who knows how long with an injury? And how can you explain to Murray during a meeting where he's fired that he should have been able to coach his team out of a situation as bizarre as Manny Legace hurting himself by stepping on a carpet laid on the ice for a vice presidential candidate from Alaska?
You have to remember this is team president John Davidson's first foray into team management for any NHL organization. Murray is the first coach he's ever hired. Don't think there isn't some attachment to the idea of "us vs. them." Murray is most definitely part of the "us." Also you have to factor in some economics and a timing factor.
It's no secret the Blues are not swimming in a lot of cash. Oh sure, attendance is up. But the team obviously couldn't afford a free agent this past summer. Do you think the Blues could really afford to fire Murray now with more than 80 percent of the season left and at least one more year left on his contract. Then they would also have to hire a new coach and pay him too. The economics of the situation suggest Murray is safe at least through this season to keep from paying two men to do the job of one for as short a time as possible.
Even with the Blues struggling and this season going down the shitter, Murray just hasn't had enough time on the job. He was hired in December of 2006. The Blues were effectively eliminated from the playoffs before he signed his name to a contract. Last season the Blues played better after an offseason and training camp with him at the helm. They were aggressive in adding Paul Kariya. Johnson left college and signed an NHL contract. The 2007-08 season was frustrating in that it was hard to differentiate between the team not playing well down the stretch and much of the second half or if the more rigorous second-half schedule with fewer off days and more road games played that much of a factor.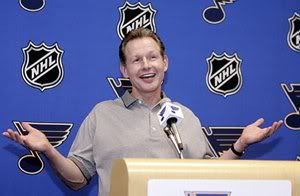 This is Murray's second full season on the job. Is that enough time to judge him and his capability to lead this team? I doubt it. What about the viable coaching candidates who must be watching the situation? Any coach with experience would be reluctant to take a job where the last poor bastard got fired right at two years worth of time on the job. The poor bastard he replaced got about two years before that. That smells like something, and it's not job security. What free agent wants to sign with a team when he could have a new boss once or twice during his time with a team?
Look, I want to blame somebody too and Murray is an easy target. He's a lot like Tony La Russa with the Cardinals. Both enjoy an image that portrays them as intellectuals. They both are stubborn and obviously know their way is the right way. They like lots of veteran players, but youth will do in a pinch. Benching players and putting strange combinations out there to play together, it's all part of their plan. Trust them.
I told a lot of people before this season that most fans during the midst of this season would consider it a step backwards, that it would ultimately be more difficult and unpleasant than last year. But in the future, this year could be seen as the turning point for the franchise. The playing time the youngsters are getting, the prospects that are maturing here in St. Louis and elsewhere could lead this team out of the Western Conference cellar for a long time. But they're not ready yet.
Firing Murray right now doesn't make sense economically, it could hurt finding a solid replacement and it doesn't address the fact that this team is a work in process. The meat thermometer isn't going to pop this season. So don't fire the cook before he's had a chance to fully cook the meal.
What do you think? Let me know in the comments.