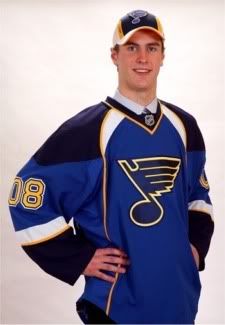 By Brad Lee
On Thursday the Blues organization made the team's first big decision of the year a day before taking on the Blackhawks in Chicago.
The Blues sent first round draft pick Alex Pietrangelo back to his junior team, the Niagra Ice Dogs of the Ontario Hockey League. The 18-year-old defenseman got an eight-game tryout, one less than NHL rules allow. While I don't disagree with the decision, it does give a peek into what president John Davidson thinks of this team, both in the here and now and long term.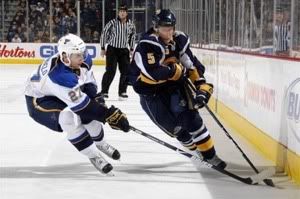 Pietrangelo, the No. 4 overall selection, is too young to play in the AHL, the league for the Blues' high farm team, the Peoria Rivermen. So that means that after he signed a professional contract, he was only able to play for the Blues or for the Ice Dogs back in juniors. According to the collective bargaining agreement, if a young player appears in 10 NHL games, the season counts towards the length of his professional contract and starts the clock ticking toward restricted free agency. By playing in eight games, Pietrangelo's season will not be counted towards that eligibility. But it also means that by going back to juniors, he cannot be recalled this season.
Trying to learn how to be an offensive defenseman is one of the toughest roles to learn in the NHL. Players have to be able to read and react to the play, decide when the right opportunity to take a risk and when to play it safe and be smart with the puck. The transition game going both ways is crucial. Just Wednesday night Pietrangelo was caught up ice right after a neutral zone turnover - a turnover he was responsible for. His turning the puck over and being out of position led to an odd-man rush for the Sabres that resulted in a Buffalo goal. Obviously he has a lot to learn.
But sending Pietrangelo back is a signal from the front office. A year ago David Perron's status was identical and the team chose to keep him in the NHL. At the time, the Blues were in the midst of a playoff push. They needed his offensive potential. This year the Blues are in last place in the Central Division. And while they need Pietrangelo's abilities, especially without a healthy Erik Johnson in the lineup, why ruin a year that the team controls his destiny when there is dim hope of the team drastically improving their playoff chances? While Davidson won't come out and say that, it seems clear that the standings are helping to dictate this move.
Another factor has to be the amount of young talent the Blues are bringing through the system. And as we saw this past summer when restricted free agent David Backes signed an offer sheet from Vancouver, players are getting paid higher amounts at much younger ages. By sending Pietrangelo down, the Blues have set up an orderly flow of players hitting their paydays down the road. Last year Johnson and Perron started their salary clocks. This year it was TJ Oshie and Patrik Berglund. Next year it could very well be Pietrangelo and last year's No. 1 pick Lars Eller. With prospects such as Ian Cole and Aaron Palushaj in college and a possibly high first round pick this summer on the way, the Blues will have to get some separation with these young hopefully impact players. If they all came due at once, the ensuing fire sale because of cap issues would be unbearable.
The bottom line is Pietrangelo isn't quite ready to play at this level. Back in juniors and just as importantly the World Juniors tournament just after Christmas, Pietrangelo will average more than 20 minutes of ice time a night. He'll be an anchor on the power play and penalty kill. He'll be put in the game situations that Blues coach Andy Murray would be reluctant to place him in this season. But this choice also seems to be economically motivated as well.
Pietrangelo was replaced on the roster by defenseman Jeff Woywitka before tonight's game in Chicago against the Blackhawks. The Hawks are coming off a 2-1 shutout loss at home to Boston on Wednesday night. In the two games before that Chicago scored six goals in each. In 14 games so far this season, the Hawks have failed to register a point in only three of them. With a record of 7-3-4, they sit in second place in the Central Division behind Detroit. Chicago has the seventh most points in the conference with 19.
Second year player and former No. 1 overall pick Patrick Kane leads the Hawks in scoring with 7 goals and 19 total points. Patrick Sharp leads the team with nine goals and hasn't even tallied a shorthanded score yet. Jonathan Toews hasn't even gotten going yet with just two goals and eight assists on the season. They're a young, fast, skilled team with defensemen who get involved in the offense like Brian Campbell. And they've got a real coach now in Joel Quenneville.
Surprisingly Nikolai Khabibulin has played in eight games, two more than offseason addition Cristobal Huet who sounds like he was named after a high-priced champagne that rappers brag about drinking. Both have save percentages above 91 percent and goals-against averages below 2.50. Go figure.
Game time is 7:30 p.m. CST. Come back tomorrow for the rundown and a quick glimpse at the Montreal Canadiens who come calling in St. Louis on Sunday.