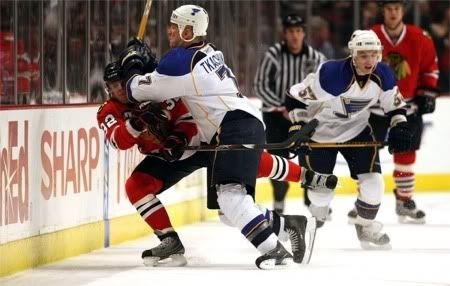 By Brad Lee
Wanted to get the thread up early. Game time is 7:30 CST. Game is on the FSN. No HD, those cheap bastards. We welcome followers of all denominations, so if any stray Hawks fans show up, I hope they join in the reindeer games in the comments.
Here's the Yahoo! preview.
Drop your predictions and such before the puck drop.
BONUS: As you might know, there is a paper version of Game Time that we sell outside Blues games. We were insipired by the godfather of underground publishing, Jeffio, who ran the Game Night Revue for 10 years. That drunkard was inspired by the Blue Line, a fan-run publication sold outside Hawks games because this other drunkard wanted an outlet to cuss out the then-owner Dollar Bill Wirtz. I said all that to say this: There's a new fan-run publication in Chicago called The Committed Indian. This is their first season and the crazy dude who is doing it sent us the pdf version of their paper tonight. I think he's been brave enough to comment a few times around here. If you'd like to see what the fans are reading about the Blues tonight in Chicago, drop me a line at gtbradlee@gmail.com and I'll forward your way.
We'll be back closer to game time...here at Game Time.
19:47 And we're off to a flying start. Offsides.
17:25 Legace with a decent save.
17:13 Stempniak on the doorstep. Couldn't get a shot.
17:04 Mini breakaway. Legace makes the stop. Too much happening. Can't type fast enough. Looks like I picked the wrong week to give up meth.
16:12 MCDONALD! A shorty! Doing his best Patrick Sharp impersonation. 1-0 St. Louis.
A first period lead? Really?
I would like to point out that before the season on my player rankings, I rated McDonald the most important player on the team.
HEY TIM AT HOOTERS. Tell Angellla Brad says hi and then ask if she'll be able to answer my interview questions.
14:15 Apparently the Blues penalty is over. It's hard to see the screen when a 3 year old keeps pointing at the screen to her friend Barret Jackman.
13:45 PERRON SCORES!!!!! What. The. Fuck. 2-0 St. Louis, with two goals in two games for Frenchy. Khabibulin is Russian for "Soft Like Cheese Clothe."
Apparently John Davidson on TV is bad luck. 2-1 Blues.
And the score and time are invisible. Backes just had his second chance and then anarchy ruled. Apparently Woywitka is pissed he's not in Peoria anymore.
SOMETIME DURING THE GAME Davidson had to step in and mention there's a Blues power play. Hopefully Davidson can give Federko some tips or something.
AT SOME POINT TONIGHT Davidson declares the Hawks-Blues rivalry is back during a pushing match. Tkachuk tried forcing the puck in. Hawks took umbrage. I smell fisticuffs.
10:45 "I thought it was a decision that could go either way," Kelly said about the Pietrangelo decision. Davidson said, and I'm paraphrasing here: I'm not going to say you're wrong, but you're wrong.
9:35 CAM PADDOCK SCORES!!!! Who? 3-1 Blues? Is he related to Cam Neely? And I hate seeing No. 65. Holy crap. Whatever kind of coffee they replaced in the dressing room before the game, buy more.
And Woywitka and Seabrook dropped the gloves. Jeffrey, hold on for dear life.
That's going to leave a mark.
Commercial: "We owed the IRS more than $3 million...and we payed less than $1 million." Hey dumb bitch, it's people like you who are ruining the economy for this country. Thanks for doing your part -- a nation down.
Backes and Barker drop the gloves while we watch Tkachuk junior score a hat trick. And Barker will not be recongized by his boyfriend after the game.
I bet Cam Janssen is pissed he hasn't danced yet.
8:42 Walt drops the glove with Buffalogin or however the hell you spell his name. And there's a reason Walt doesn't drop much anymore. He got hurt in a fight with Phaneuf last year. Walt got the extra 2 minutes? WTF?
7:40 Hawks holding the puck in forever on the power play.
Too bad Oshie is hurt. Would love to see a fight with him and Toews.
6:25 Penalty over.
So maybe the rivalry is back...
5:24 So Janssen was so raring to go, he forgot to throw punches. He fights Eager and it's over quickly with the takedown. Fourth fight of the first period.
So if Legace and Khabibulin go, who wins? And yes, Legace is allowed a step stool.
4:52 Legace cleaned up a rebound. He hasn't been challenged much besides the goal, but he looks steadier than he did two nights ago.
2:23 High-priced free agent defenseman Brian Campbell pinches in. He has 0 penalty minutes so far this season.
2:09 Perron on the other hand is in the box right now. I hope he feels shame.

Chris D.
brewer's shot blocked huh.
I've seen grass grow faster than his release.
:24 Paddock out killing penalties. Interesting.
END OF PERIOD
Blues lead 3-1. Go figure. We'll let you know when the second period post is up. Thanks for hanging out tonight.