By Brad Lee and Chris Gift
St. Louis Blues fans have a bond with some players that is difficult to break.
Brendan Shanahan has been gone for more than a decade his jersey is still a common sight at games. Listening to some fans talk about Craig Conroy, you would think he's a perennial All Star. The number of retired players who live in St. Louis is surprising since a majority of them are from Canada.
During some of these breaks in the schedule this season, I thought it would be interesting to check up on a few former players. And we're not talking about stars here, but guys fans knew and appreciated but never really became household names. It's a regular feature we run in the paper edition of Game Time. Here are a few of those in one place, just waiting for your memories and comments.
Sergio Momesso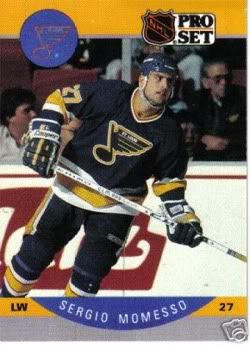 Now 43, Sergio Momesso played left wing for the Blues from 1988-91 and then again in the 1996-97 season. A Montreal native with an Italian background, big Sergio was a popular guy when he was roving the left wing opposite some guy named Brett Hull. He has an accent thicker than Mississippi River mud, and that was part of his charm. He won a Cup with the Canadiens before coming to St. Louis where he played a total of 222 regular season games and scored 44 goals and 70 assists. He was more of a hitter and protector for Hull. He'll also be remembered for being included in the six-player deal that was blamed for ruining the chemistry of the 1990-91 season. The trade sent Momesso, Cliff Ronning, Robert Dirk and Geoff Courtnall for Garth Butcher and Dan Quinn.
Momesso's second stint with the Blues was just 31 games. He only scored one goal and three assists, ending his NHL career. He played professionally in Germany for four years before retiring altogether in 2001. Momesso owns a popular Italian restaurant in Montreal called Momesso's Caffe'.
Momesso was in the news in January when his home outside Montreal was broken into and his 1986 Stanley Cup ring was stolen along with some of his game-worn jerseys from Montreal, Vancouver and one from St. Louis that was signed by Hull. Police said nothing else was taken. If you return the items now, no hard feelings.
Philippe Bozon
Another left wing for St. Louis, Philippe Bozon is a legend in his home country of France. He played in 144 games for the Blues 1991-1995 and turns 42 at the end of this month. He'll gladly accept snails for the occasion.
Bozon was signed as a free agent during the early 90's, when the NHL took on an extremely European feel to it. Bozon was the first Frenchman to play in the league. Montreal's Cristobal Huet is the only other French-bred (not French bread) person to play in the NHL. He was assigned to the checking line when he arrived. French people generally speaking aren't very good at being physical, so needless to say Bozon's four seasons here left a little bit to be desired.
Every once in a while, Bozon would be put on Brett Hull's line and he didn't exactly set the world on fire while there. His numbers with the Blues in those 144 games were 16 goals, and 25 assists with 101 penalty minutes. He managed two goals in playoff games with 31 penalty minutes.
The 1993-1994 season was Bozon's best, with nine goals and 16 assists. Those 25 points tied him for sixth best on the team with Vitali Prokhorov- talk about a name from the past. St. Louis was Bozon's only stop in the NHL. He played the rest of his career in Europe, playing in both Germany and Sweden. He also played in the Olympics for France four times, scoring a hat trick in 1998 in the 11th-place game against Italy.
He was inducted into the International Ice Hockey Federation's Hall of Fame in 2008 based on his international play and his trailblazing for the French in the NHL. His induction class included Igor Larionov and some guy named Mario Lemieux. One of these things is not like the other.
Marc Bergevin
It's good to be friends with the coach.
Marc Bergevin, a retired defenseman, was named an assistant coach for the Blackhawks early this season when Joel Quenneville was tabbed for the head coaching job in Chicago. Bergevin, 43, had been Coach Q's boss as director of pro scouting for the Hawks.
Bergevin was one of those Blues players to have two stints with the team. He broke into the league in 1984-85 at age 19 in Chicago. The defenseman was never blessed with good puck skills. He only topped 20 points in a season once in his career. But was it a long career. The guy probably ended up just keeping a moving truck parked in the driveway. He changed teams 11 times before he retired after 2003-04. He not only played twice for the Blues, but he pulled the same feat with Tampa Bay and Pittsburgh - a team he played for three different times with stops elsewhere in the league. He scored 181 points in 1,191 career games.
Other than being Mario Lemieux's personal caddy and being known as a locker room crack up at every stop in his career, Bergevin is probably best known (at least in St. Louis) for throwing a puck in his own net during the 2000 playoffs for the Blues. I guess there are worst things to be remembered for, like being a serial killer.
Herb Raglan
Herb Raglan was a right winger for the Blues from 1985-1991. In the days of Bob Probert, "Rags" was a highly touted "next Bob Probert." He was drafted in the second round (37 overall). While never materializing into Probert, on or off the ice, Rags did have a few productive- relatively speaking- seasons for the Blues.
During the famous 1990-1991 season, Raglan was shipped to Quebec along with Tony Twist and somebody named Andy Rymsha for another tough guy, and future River Otter, Darin Kimble. Raglan also suited up with Tampa Bay and Ottawa before calling it a career. He finished his time in St. Louis with 235 games played, 26 goals, 39 assists, 65 points and 571 penalty minutes. He saw action in 32 playoff games with three goals, six assists and fifty penalty minutes.
Raglan, 41, has retired to Peterborough, Ontario. He and his wife, Tammy, recently opened the King Street Market, at the corner of King and Park Streets in Peterborough. The market features homemade sausage, meats and fish, with almost all of it made on site. He was somewhat of a butcher with the puck, so it's only fitting he's a butcher of meat now.